As a proud Porsche owner, I can attest to the fact that every drive is an unforgettable experience. For me, life is a journey made up of sweeping mountain curves, leading to the discovery of new places filled with culinary delights and delicious wines. Some people call it living life to the fullest; drivers of these exceptional cars know it as the Porsche lifestyle. I take every opportunity to jump in the car and explore and this year has been no exception.
In that spirit, this summer, I decided to spend a weekend visiting the best South Okanagan wineries on a personal Porsche wine tasting tour. As a lover of both good wine and Porsches, I thought I would combine these two interests and see what happened. I was on a mission to discover exceptional wines and to connect with local growers and winemakers for a truly immersive travel experience.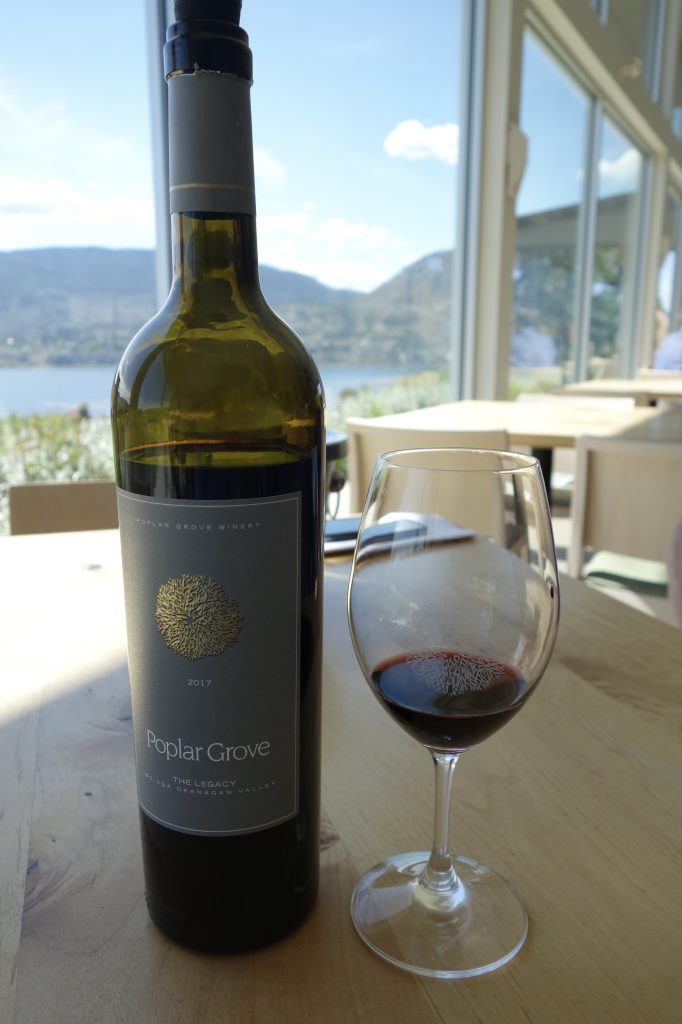 The South Okanagan stretches from Penticton on Okanagan Lake, to Osoyoos on the edge of the Canada – US border. The area has nearly 200 wineries, producing more than 75 grape varieties, and includes several microclimates with varying soil compositions.
Upon my arrival in Penticton on Saturday at noon, I visited Loki's Garage, located behind Front St., in the downtown business district. Originally a multi-car garage, it has been converted into a restaurant with large bay doors and plenty of patio seating. Here, I met owner Luke Walsh, who works from scratch with the best local ingredients to create memorable meals. The house- cured pastrami and pickled sauerkraut sandwich was so good that it reminded me of my recent visit to Montreal.
My first winery tasting that afternoon was at Poplar Grove Winery located on the Naramata Bench which offered an astonishing panoramic view of Okanagan Lake and the town of Penticton from their tasting room and restaurant. I was greeted by Daniel Hinchey, tasting room manager, who served me their signature red blend, The Legacy, which has amazing qualities that truly reflect the character of the region. With some of the best red wines and incredible views, Poplar Grove Winery is a must-visit.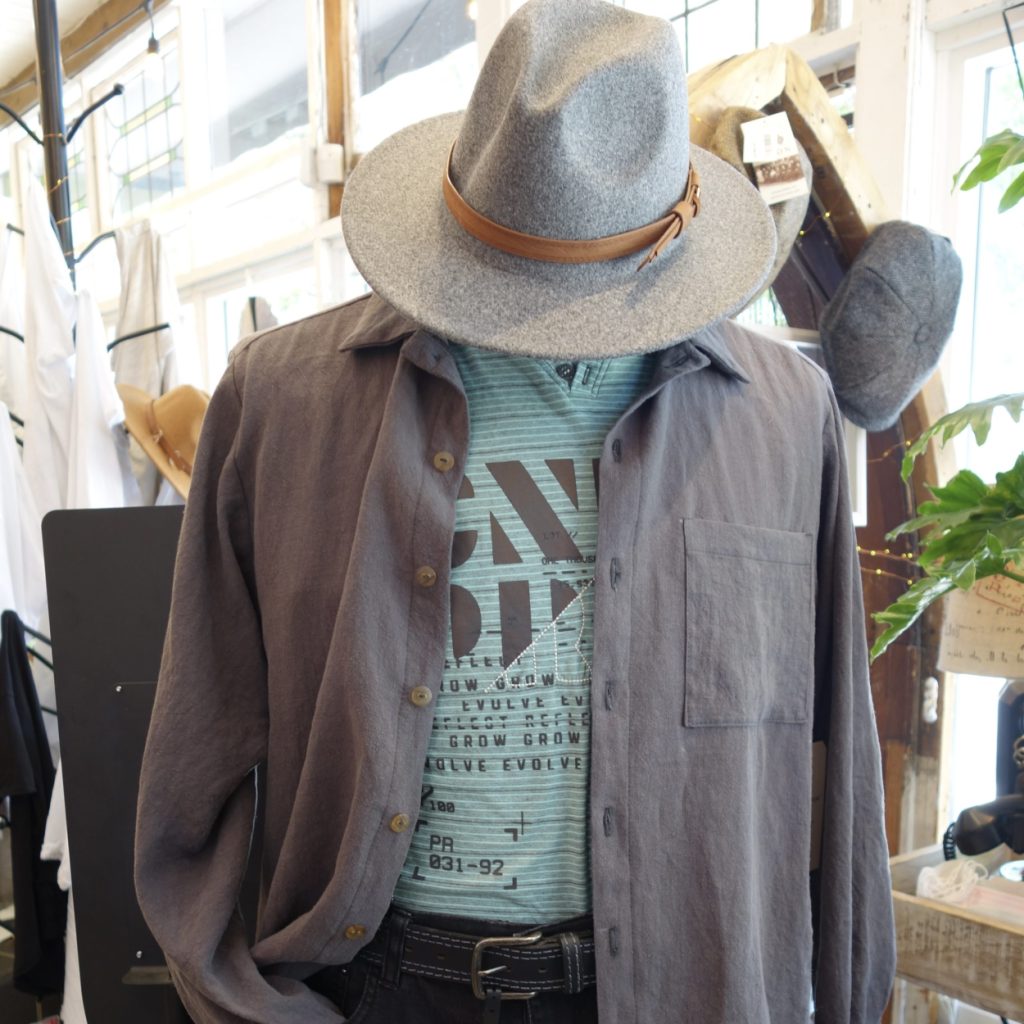 Leaving the winery, I continued on to Naramata, a village of only about 2000 residents about 15 kilometers north of Penticton. There I discovered Shades of Linen Clothing. Owner Diane Jensen has been operating from this small shop for the past 16 years, designing and manufacturing resort wear for men and women. Working with natural blend fabrics such as linen and cotton/linen blends, she pre-shrinks the fabric before sewing and clients can order custom tailored pieces; she even ships worldwide. I was reminded by this experience that, when traveling, we make a difference by shopping local.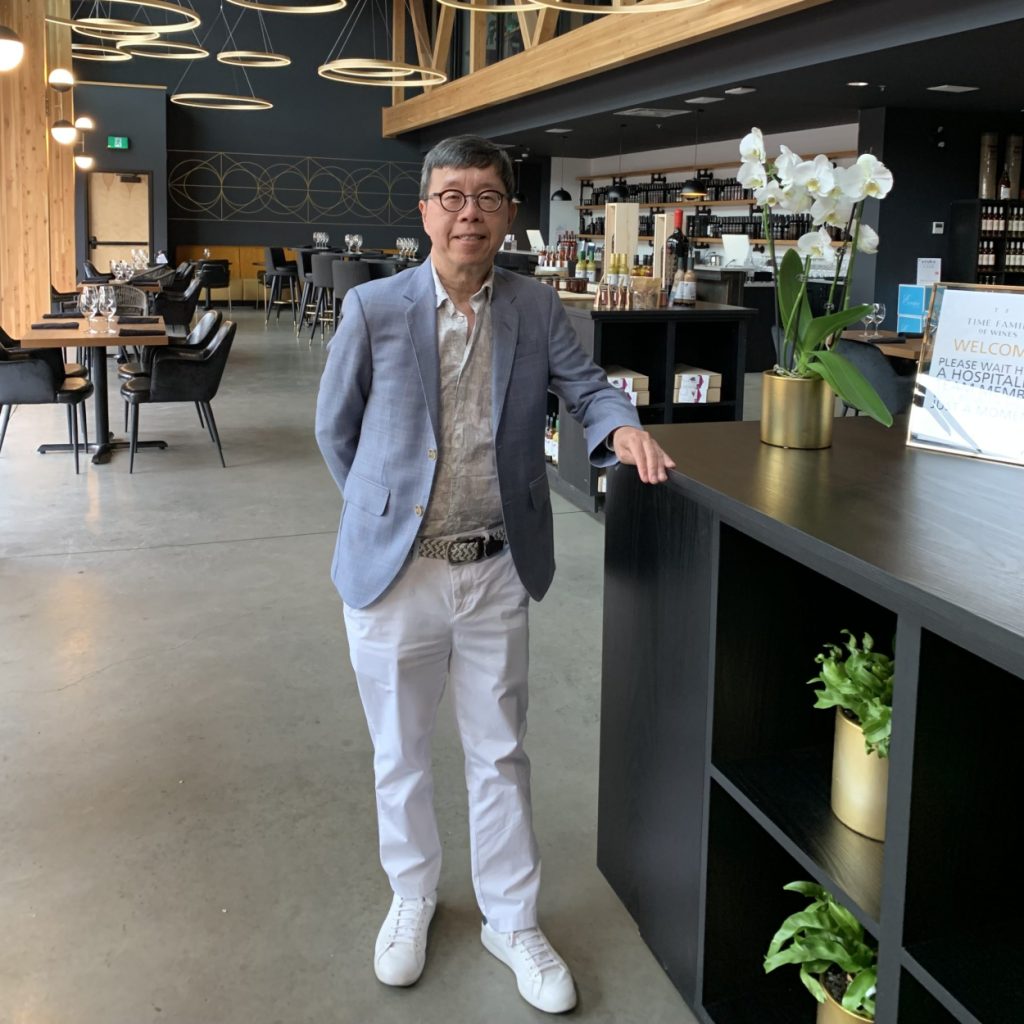 I then visited TIME Winery which is located within a historic and revitalized movie theatre in downtown Penticton. This elegant tasting bar and restaurant offers the renowned Chronos, Evolve Cellars and the McWatters Collection wines. During my VIP tasting, I learned about sparkling wine production and enjoyed their famous Sabre School experience; I even opened a bottle of bubbly with a quick stroke of a large sabre blade! With a reputation for excellent wines and the best gourmet burgers in the Okanagan, TIME Winery made for the perfect ending to my first day.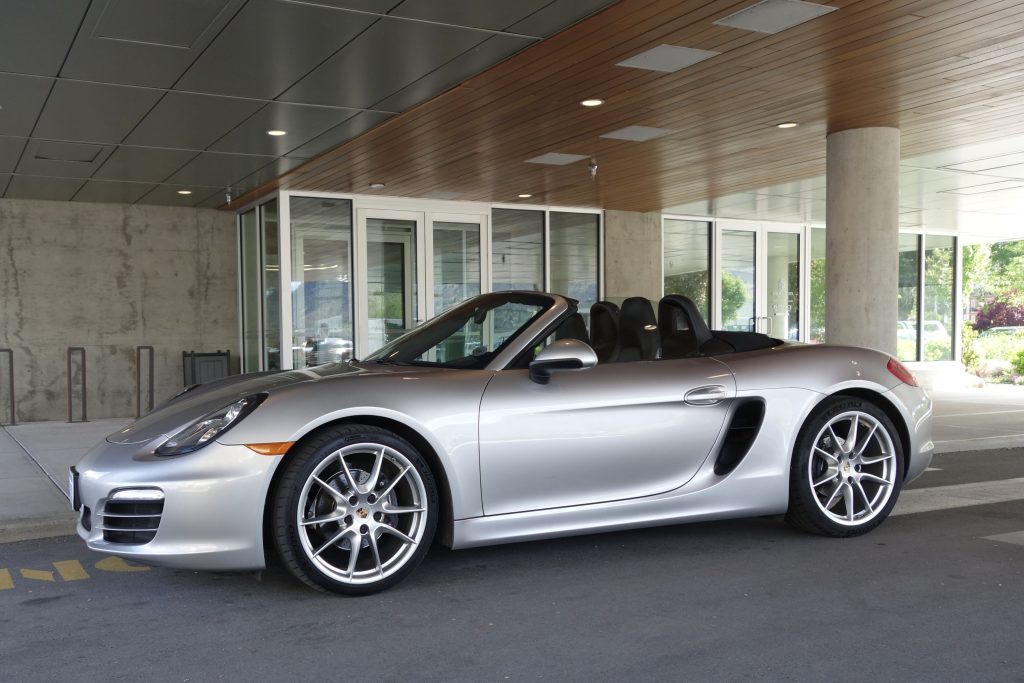 For accommodation, I checked into the Penticton Lakeside Resort's new luxury west wing which is built primarily with sustainably managed BC timber rather than the commonly used steel and concrete. My contemporary sixth-floor room had light coloured wood accents and a spacious private balcony with spectacular views of Okanagan Lake Bench and the Okanagan Highlands. With covered parking for my Porsche, this is certainly my choice of hotel when visiting Penticton.
As a seasoned traveller, I seek out local hang-outs such as Wayne and Freda Coffee Shop where I enjoyed my next day's brunch. A ten-minute walk from the Penticton Lakeside Resort, the Cafe offers sustainable coffee and a curated menu of breakfast sandwiches. I ordered the Salmon toast with a poached egg and watched the town of Penticton come alive on a warm Sunday morning.
Afterwards, I loaded my Porsche's trunk with my overnight bag and, with the top down, I headed south towards Okanagan Falls. My driving route was a curvy two-lane road along Lakeside Road on the edge of Skaha Lake away from highway traffic.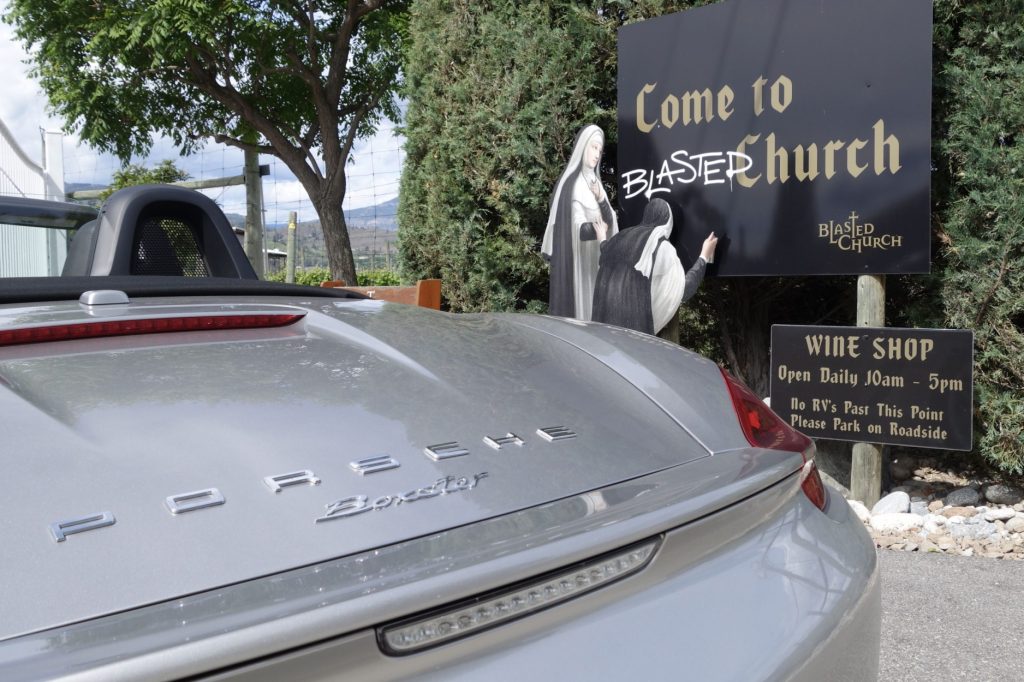 It was Sunday morning and I wasn't looking for a religious experience, but I then came across Blasted Church Vineyards. Located in the hills above Skaha Lake, the entrance greets you with a "Come to Church" sign with "Blasted" graffiti'd in by some mischievous nuns. Beside the sign sat a church pew, over 100 years old, which I learned is from the original Okanagan Falls – based house of prayer that was dismantled and rebuilt in 1929.
Blasted Church Vineyards, with its gently blasphemous stance, are famous for their truly delightful handcrafted wines. I learned from winemaker Evan Saunders that their small lot wines – under 300 cases – have received accolades in Canada and from aboard. My wine tasting experience included various wines, served on their patio, and concluded with a glass of Blaufrankisch Rose, complemented by their tasty cheese and charcuterie plate.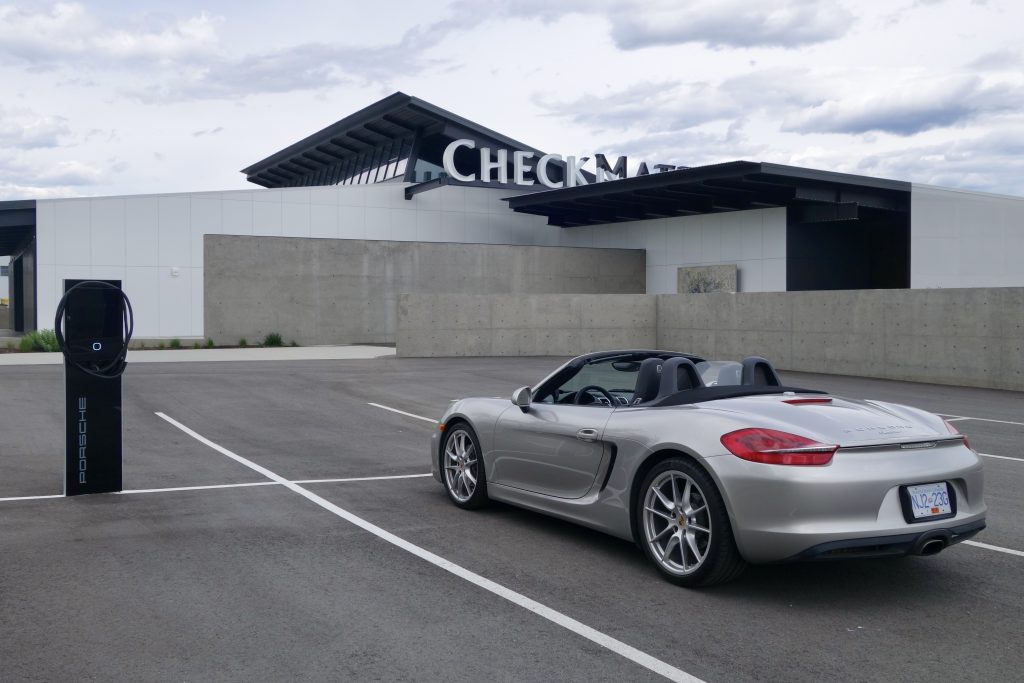 Pointing my Porsche south, my next stop was CheckMate Artisanal Winery in Oliver. Upon entering the parking lot, I discovered two Porsche EV chargers which was a first on my road trips; I had not yet come across any other Porsches on this trip and was delighted to know that other like-minded drivers were enjoying the Okanagan. Alas, my curated tasting experience at CheckMate was presented by Valerio Mariani, who loves Ferraris. Being Italian, he can be forgiven.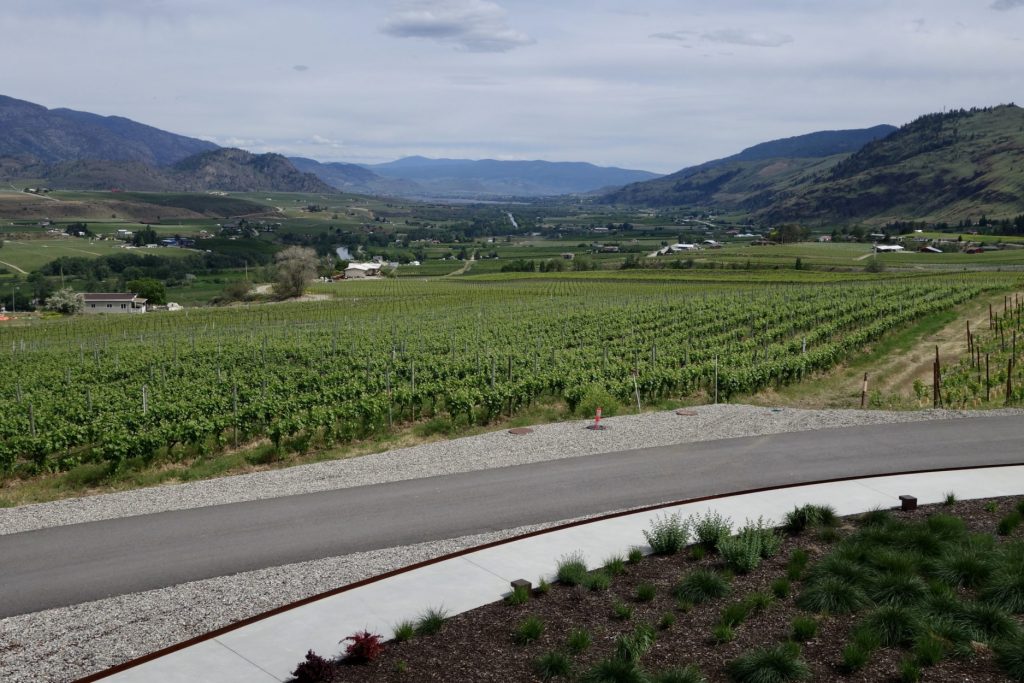 From the CheckMate tasting room, furnished with Italian furniture in all black, featuring smoked glass, guests enjoy views of the vineyards. Grown from the oldest Chardonnay vines in BC, I enjoyed the 2018 Queen's Advantage Chardonnay which explodes in your mouth and yet remains silky with hints of butterscotch, marmalade and barrel spice. Try the 2018 End Game Merlot for a complex aroma with licorice, spice, chocolate, raspberry, deep red fruits and a taste that is rich on the palate with savory notes, raspberry and dark chocolate.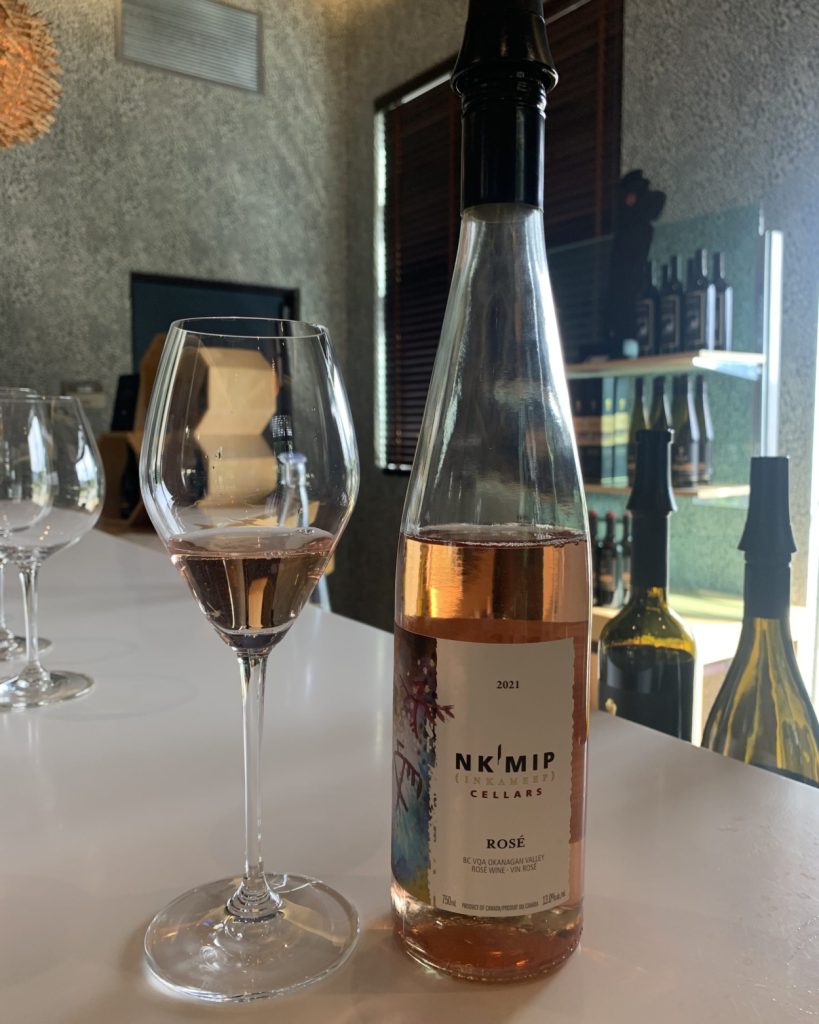 My last visit of the day was at Nk'Mip Cellars in Osoyoos, located beside the Spirit Ridge Resort. Nk'Mip is North America's first Indigenous owned and operated winery dedicated to crafting premium VQA wines. Here, I met Justin Hall, winemaker, who shared with me his people's history and his determination to build a successful winery. My private wine tasting included both white and red wines with a focus on the grape, for a more refreshing taste reflecting the terroir of this unique desert climate.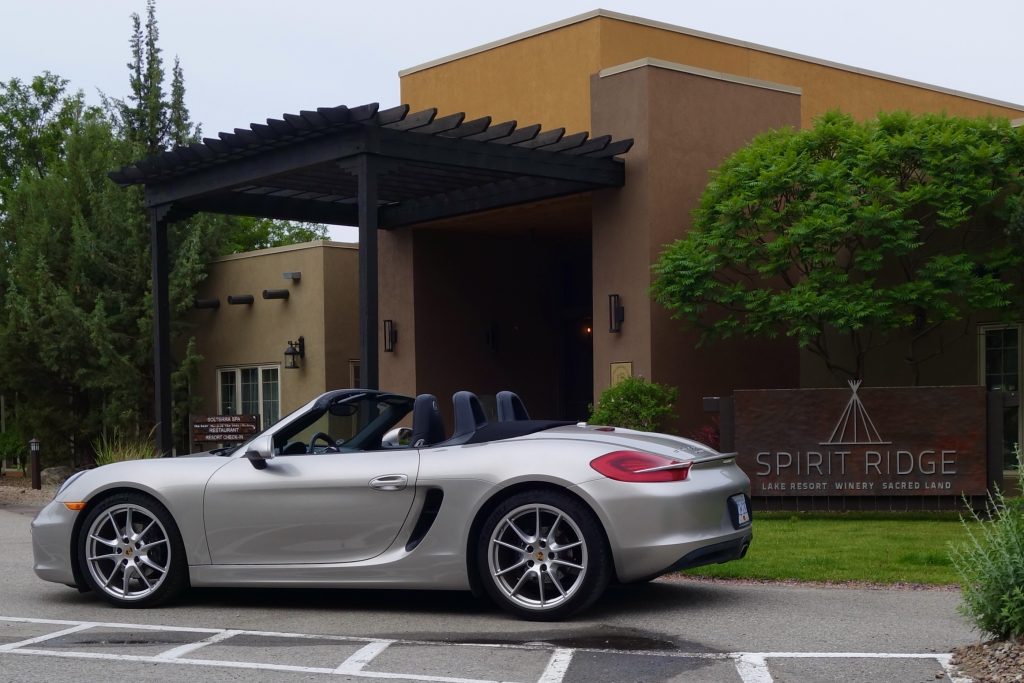 On my final night, I stayed at the luxury Spirit Ridge Resort which embraces the story-telling of the local Osoyoos Indian Band through art, language, food and stories. This resort property has a wonderful pool with views of Osoyoos Lake, a spa, and fabulous dining options.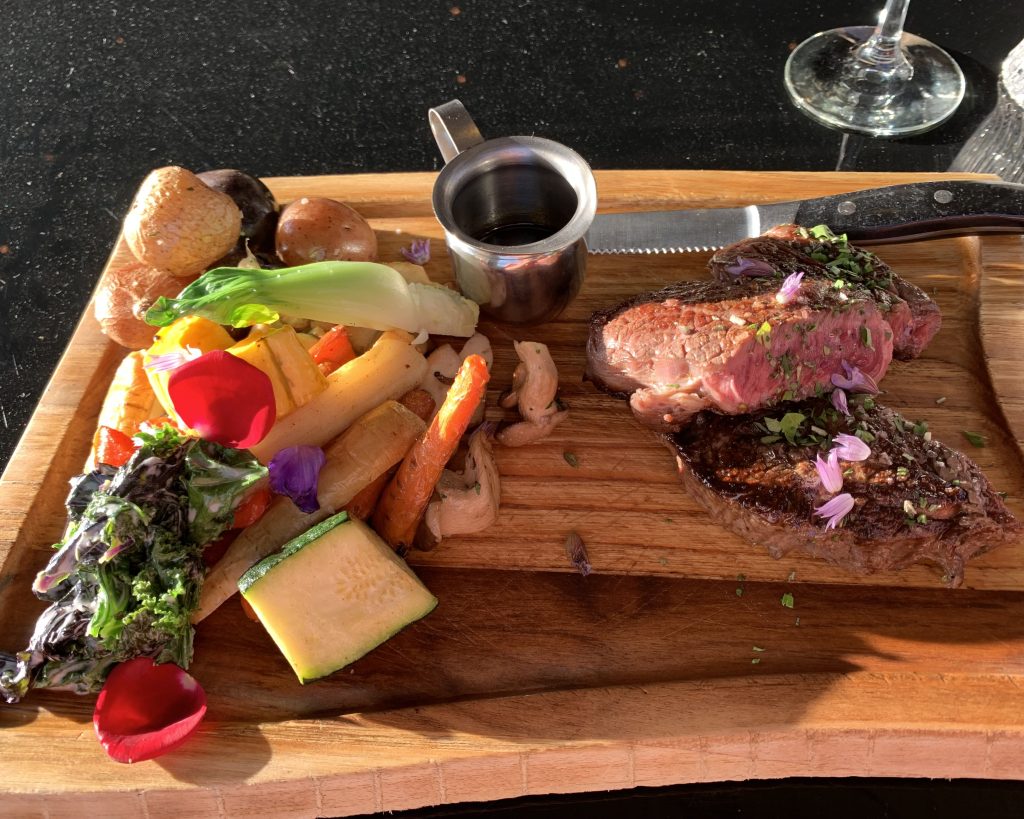 Spirit Ridge Resort's signature restaurant, the Bear, the Fish, the Root & the Berry, is named after a Chaptik story of four Chiefs that represent the key elements of indigenous cuisine. The four chiefs are Skemxist (Black Bear), Siya (Saskatoon Berry), Spitlem (Bitter Root), and Ntyxtix (King Salmon). I can highly recommend it, as my evening dinner was a succulent Bison ribeye with wine of course – the perfect ending for my Porsche weekend tour.
Only a five-and-a-half-hour drive from Vancouver, British Columbia's South Okanagan is one of the great undiscovered wine regions in the country, so pack up your Porsche and visit before the masses arrive.
This story was published in the Porsche Club of America – Canada West Region Timberline magazine, Fall 2022.