When I originally signed up for my first Porsche Club America – Canada Western Region (PCA-CWR) Porsche Escape in Sun Peaks BC last July, I never imagined that "escape" would actually be part of the weekend experience.
But when a small wildfire ignited at the base of Sun Peaks, in an abundance of caution, the event organizers decided that cancelling the remainder of the event was the best decision for our group and I, along with many owners, checked out of the Resort, loaded up our Porsche's and made our escape down the mountain towards home. Despite the weekend being cut short – or perhaps because of it – the experience one I will never forget.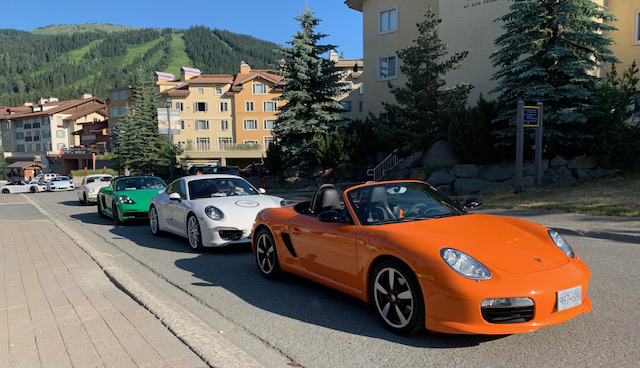 Porsche Escape
My Porsche Escape adventure began on Friday as I arrived at Sun Peaks that afternoon. With my Porsche Boxster's top down, I could hear ahead of me Porsche flat six engines wailing between the mountain passes as I left the green fertile North Thompson River Valley.
The elevation of the ascent on this twisty two-lane B road is 855 meters; Sun Peaks golf course, next to the resort, sits 1200 meters above sea level and is the highest golf course in BC. Due to four roadway cattle guards which encouraged drivers to reduce speed, I was eventually able to close in on the 911 ahead. Nearing my destination, a 180-degree hairpin curve near the summit made me smile and I entered the alpine village energized and eager.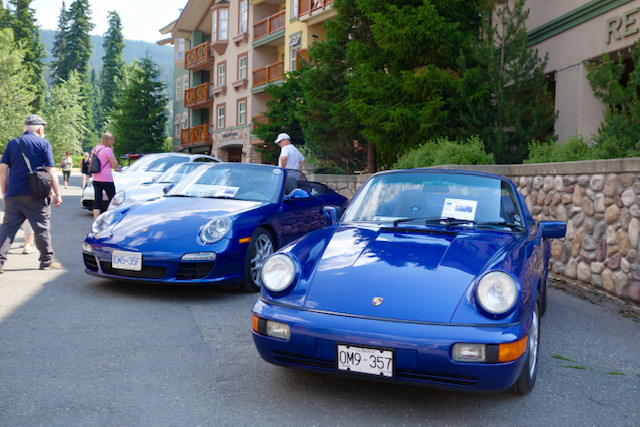 Sun Peaks Resort
After checking into the luxury Sun Peaks Grand Hotel & Conference Centre, each registrant was welcomed by club volunteers who also collected the required signed waiver. Each driver received program details and a Porsche Escape 2021 commemorative duffle bag with club lapel pins, sparkling water, and car detailing bottles with cleaning cloths which were about to become very handy.
As the Porsche Escape 2021 Concours Lite Show and Shine was on Saturday, drivers spent the remainder of Friday afternoon cleaning their Porsches. Due to newly announced civic summer watering restrictions, car washing stations were not available and we were left to detail our vehicle's in the under-ground parking garage to the best of our abilities without water. One owner resorted to inconspicuously carrying small buckets of tap water from the hotel lobby washroom to the garage while I toiled with a bottle of waterless car wash to remove all my road bugs.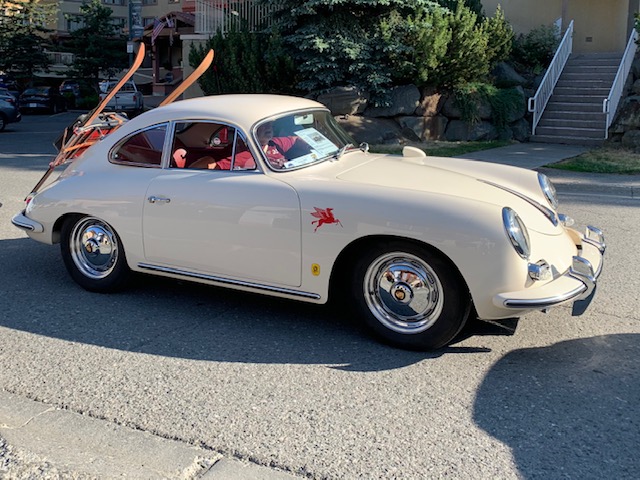 Concours Lite
Out of 39 vehicles registered for the Porsche Escape, 34 cars entered the Concours Lite. Early Saturday morning, we assembled in three groups with my Boxster in the last group, scheduled to roll into the village at 8:30 AM. Coordinating the roll-in were a couple of Sun Peak civic workers who greeted us with big smiles and placed each Porsche in sequential order.
On display were Porsches new and old, offering guests a chance to learn about the company's rich history from the owners of each vehicle. The winner of the Concours Lite People's Choice awards was a white 1960 356 Super 90 from Kelowna, BC with red leather interiors including a rear chrome rack complete with wooden skis and plaid luggage.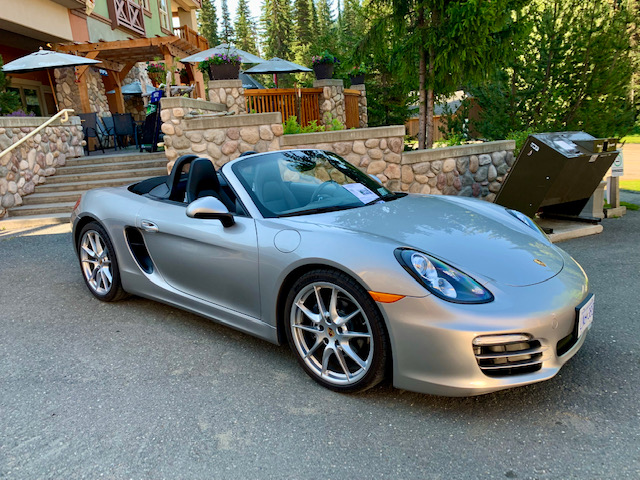 Porsche Adventure
Our host hotel, the Sun Peaks Grand Hotel offered up comfortable accommodations and their Friday and Saturday evening buffets were enjoyable dining experiences. Both evenings included opportunities to meet club members from locations ranging from Vancouver Island to the interior of BC. I even met a neighbour from Vancouver with two Porsche's whom I had never met before. After dinner, there were chances to win Porsche swag which included thermoses, backpacks, beach umbrellas, and clothing.
Our venue Sun Peaks, a European alpine ski village located north east of Kamloops, has a drive time of 4.5 hours from Vancouver. Situated off the Highway 5 corridor, this small-town resort is an ideal summer and winter destination for families.
Shared Experiences
Summer activities include biking, hiking, and alpine sightseeing while the winter months offer several mountain ski lifts, snowmobiling tours, ice skating, and more. During my weekend visit, I heard German and French spoken in the village which reminded me of Whistler, BC back in the 70's – an affordable vacation destination without the large crowds.
Participating in the Porsche Escape is all about shared experiences; it's the drive, it's exploring new places and connecting with fellow owners. Driving a Porsche is synonymous with a daring spirit and a sense of adventure.
Even with my weekend cut short, I'm not disappointed as I now have a unique travel story to share with friends and family. I never saw any wildfires and at no time was the town in any real danger but the great Porsche Escape of Sun Peaks now lives for eternity in my memory.
The above story was originally published by Timberline, Porsche Club of America – Canada West Region print magazine in Fall 2021.