For a taste of what the privileged set drove in the interwar years, Portland Art Museum's exhibition Shape of Speed: Streamlined Automobiles and Motorcycles, 1930 – 1942 is a must-see. The exhibition, which runs until September 16th, explores how science, art and fashion have influenced luxury automotive design.
Today, the mark of a luxury automobile is a combination of the best of design, the latest in technology and a degree of rarity. We may gasp at the commanding entry price of at least $150K USD but it was really no different back in the 1930's.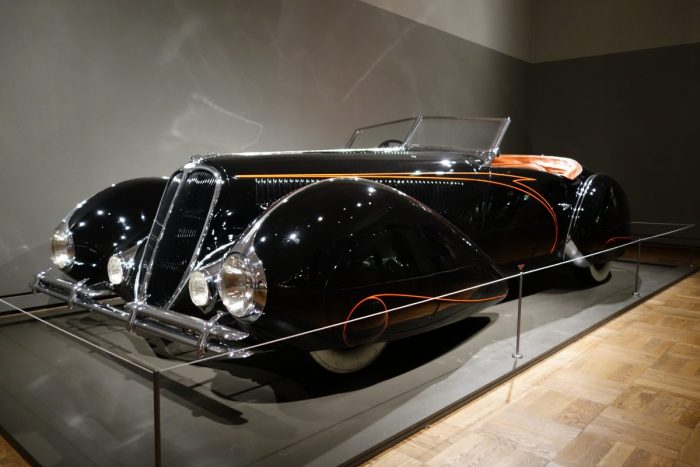 During that era, the royal families of Europe and aristocratic American dynasties demanded to be driven around in some of the most extraordinary fast and efficient streamlined automobiles ever built. After all, the elite did not associate itself with the Ford Model T or the Volkswagen Beetle.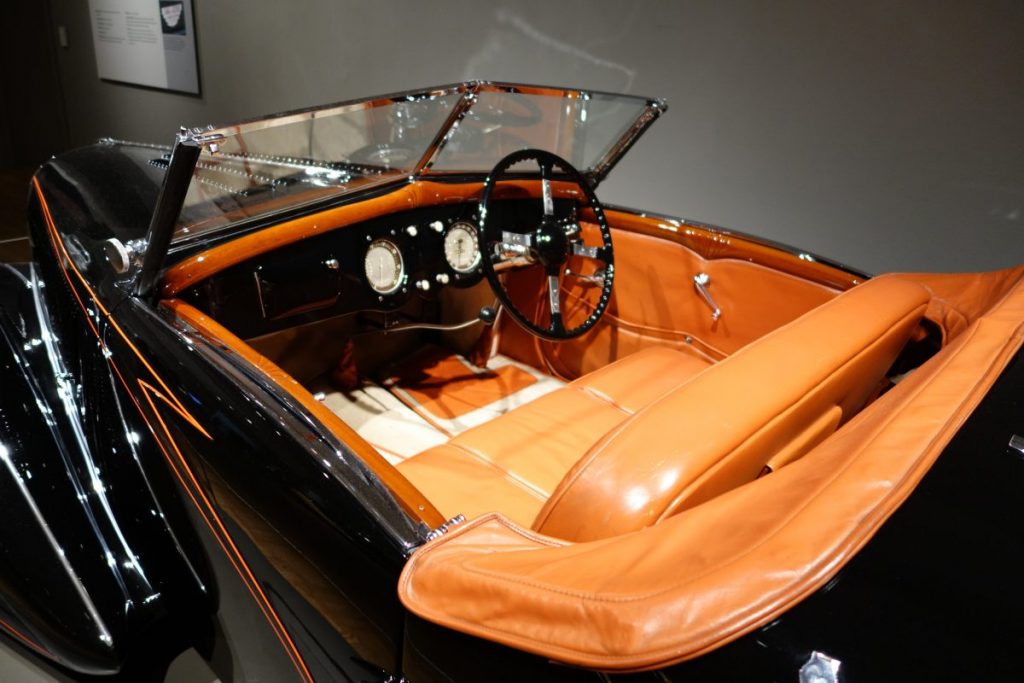 Upon visiting the Shape of Speed exhibition, you will find a rare group of seventeen cars and two motorcycles each of which demonstrate how automobile designers took used concepts of aerodynamic efficiency to create exciting machines that look as though they are moving even while parked.
These designs, which emulate the classic teardrop shape thought to cheat the wind, are emblematic of a whole new generation of shapes for automobiles that went on to influence the design of appliances, transport trucks and railroad locomotives.
The automotive marque on display represent some of Europe's finest manufacturers, past and present. Mercedes-Benz, Bugatti, Talbot-Lago, Delahaye, Cord and Chrysler are all featured as are two motorcycle manufacturers, Henderson and BMW.
Located in the far corner of the exhibition hall, my favorite vehicle on display is a 1938 Delahaye 135M Roadster, manufactured in Paris by renowned coachbuilders Joseph Figoni and Ovidio Falaschi.
The pair were famous for their swoopy, elegant custom coachwork which took streamlining to the next level and became the expression of 1930's European luxury. They accented the streamline effect to create singular designs that resulted in their automobiles being called "rolling sculptures" or "Paris gowns on wheels." Their voluptuous designs became the epitome of Art Deco elegance.
Painted a deep, rich black, the Delahaye 135M Roadster, with its long hood and hand crafted sensuous front fenders, custom tan leather interiors and black piano dashboard, certainly made a statement then and continues to do so now.
Just eleven of these stunning roadsters were ever manufactured of which only seven survive today. This particular vehicle spent most of its life in Algeria and was found in 1992. It was missing its deck hood and the shrewd buyer – unlike the original owners who would have paid handsomely for such a car – bought the damaged automobile for about £60.
The cars and motorcycles featured in Shape of Speed: Streamlined Automobiles and Motorcycles, 1930 – 1942 represent the best of streamlined design. While touring the countryside draped in couture in a chauffeured custom roadster was very much a part of the wealthy life in europe, the mere sight of one of these fabulous vehicles gave a sense of optimism and expectation.
The privileged few who attend this exhibition will get a glimpse of that bygone era of dynamism and grace and leave feeling energized by the timeless shapes of streamlined design.