"When they found gold they found wealth, when they found jade they found a piece of heaven."– Ancient Chinese Proverb
One of my most cherished childhood memories was when my mother gave me a platinum necklace with a small translucent reddish-brown jade carving of a sword that she had purchased from a small jewelry shop in Hong Kong. For over 9,000 years Jade has been a symbol of the Chinese Imperial families, representing both the heavenly and earthly realms. It is believed that the stone can mystically protect wearers from illness and evil spirits. Like most Asian Mothers, mine believed that if I were in an accident, the jade, not my precious little body, would break. I was under the strictest instructions never, ever to take the necklace off.
As an important jade centre, the small northern Fraser Valley town of Lillooet has a significant cultural connection with the 1.35 billion plus inhabitants of modern China who continue to value jade highly for its beauty and its symbolic meaning. Jade, British Columbia's official gemstone, is deeply embedded in the history of Lillooet.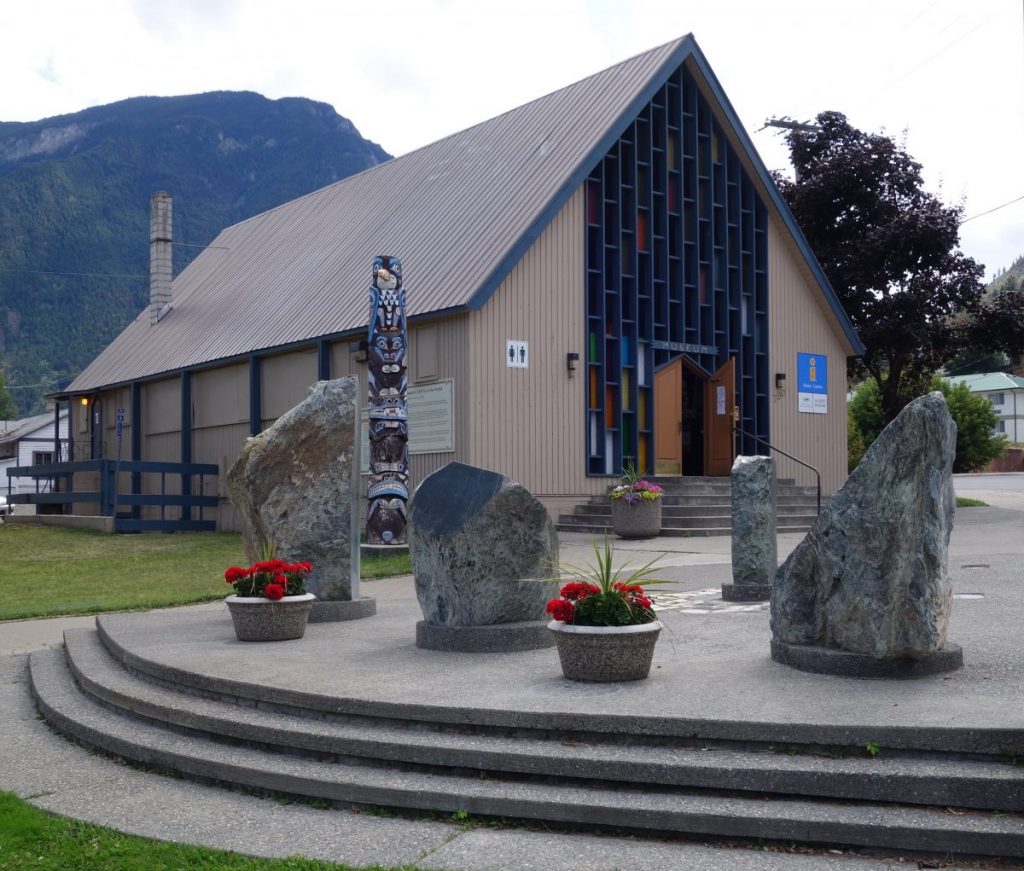 Lillooet Jade Walk
Located 250 kilometers north of Vancouver, Lillooet is a community with a rich mining history, dating back to the Fraser Canyon Gold Rush of 1858 when it was the largest town west of Chicago and north of San Francisco. Home of British Columbia's first jade mine, the discovery of this priceless gemstone in the region is now commemorated with a fascinating and unique Jade Walk.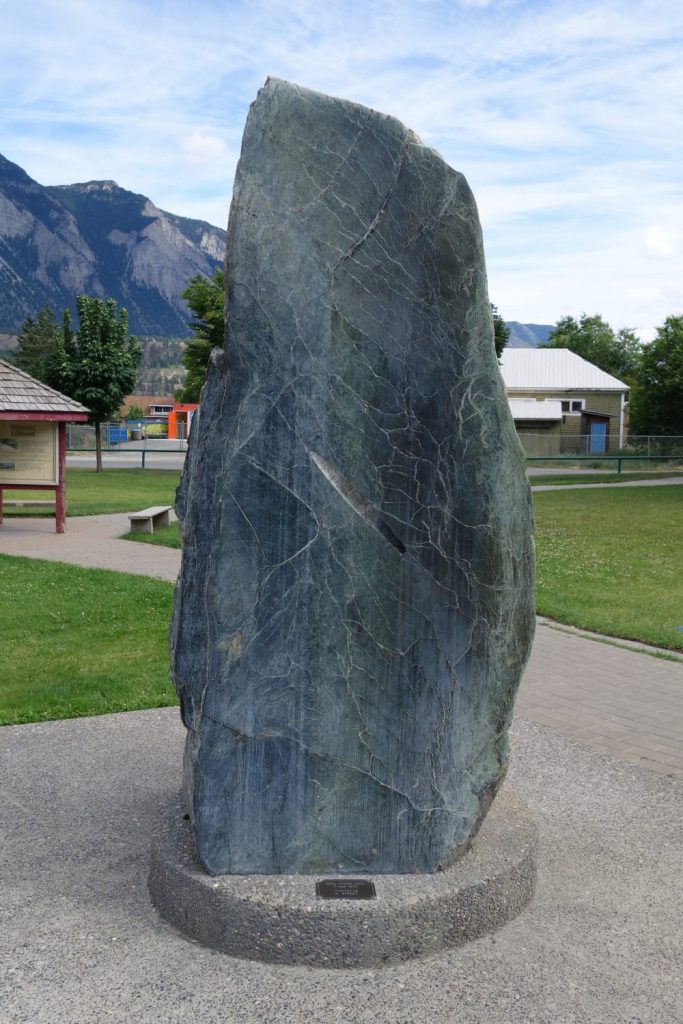 Cool to the Touch
Beginning at the Lillooet Museum and Visitors Centre on Main Street, the first stop on the Jade Walk is Jadehenge, an outdoor display of four jade boulders one of which measures nearly 3 meters tall and weighs over 7 tonnes. These four boulders, which range in size from that of a compact hotel room fridge to an enormous one meter wide, give you a sense of the stone's density and hardness. Jade is harder than steel and requires many hours and a special saw to cut. It is also, uniquely, cool to the touch.
These four jade monuments also reveal the variations that can be found in the stone. A gem quality stone requires a rich deep green color, translucency and lack of fractures. On display at Jadehenge is a portion of a 20-ton boulder in which you can actually see a natural progression from serpentine – green material – to gem quality stone in the cross section.
The history of jade in the region is long. For centuries, local First Nations residents have been using tools for hunting and skinning salmon all carved from BC jade. From the late 1960's and into the 70's, Lillooet mined and exported more nephrite jade than any other place in the world. Green nephrite jade is also found in New Zealand and Russia while China is home to a white nephrite jade, which ranges in colour from reddish-brown to clear. Today, however, British Columbia is believed to have the largest deposits of nephrite on the planet.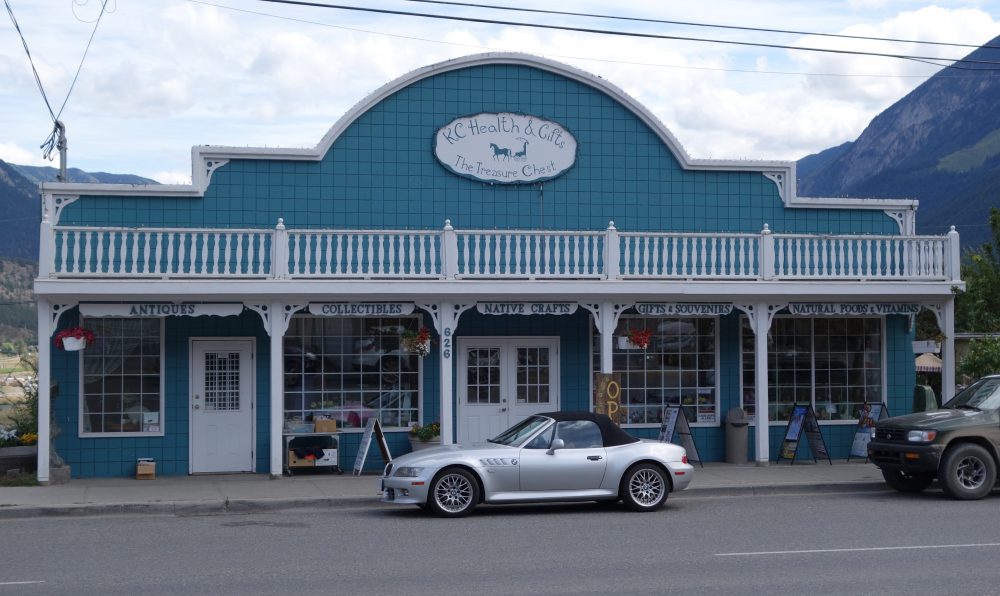 The Jade Walk is the realization of the vision of prospector and hunting guide George Vanderwolf who has lived in Lillooet for over 63 years and who actually discovered the first jade mine in the region back in October 1964 while guiding American hunters in search of mountain sheep.
When the first jade rock was placed on display at the Visitor's Centre in 2004, it looked pretty lonesome. So Vanderwolf and a band of community volunteers began adding more pieces and by 2010 there were 31 jade monuments situated throughout the town and at the cemetery all acquired from the various mines in BC. These can all be seen and enjoyed on the Jade Walk.
My mother's beliefs notwithstanding, jade is beautiful stone and its significance both to Chinese culture and BC's history cannot be understated. During your next visit to the Fraser Valley, take in the Jade Walk and learn all about BC's official stone.
Tour maps are available at the Lillooet Museum and Visitor's Centre and at KC Health & Gifts.
If you go: Lillooet Museum & Visitor Centre790 Main St., Lillooet BC