Forget the hippy look long associated with eco fashion.
The inaugural Eco Fashion Week Australia did away with that bohemian image last week by showcasing chic, wearable collections with a focus on quality and sustainability.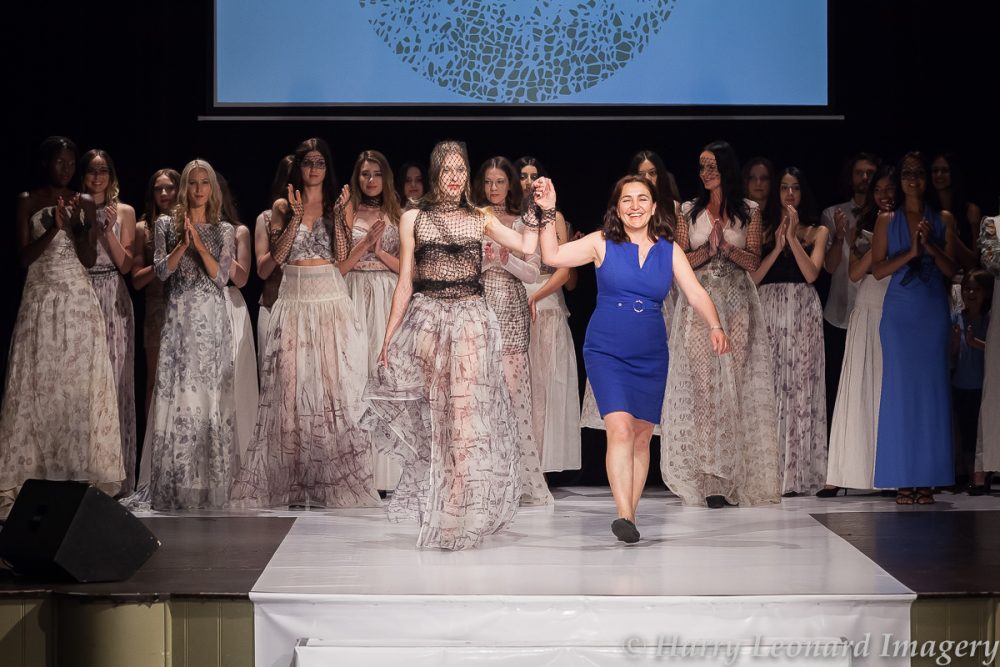 Under the direction of Zuhal Kuvan-Mills, designer for Green Embassy and founder of EFWA, over 40 eco-friendly local and international fashion designers were brought together to demonstrate how style, culture and a love for the environment intersect to create the future of fashion for conscious consumers.
During the weeklong event, which took place in the port town of Fremantle near Perth, eco-friendly designers proved that they are part of the solution to landfill waste and ocean plastic, offering slow alternatives to the unsustainable practices of the fast fashion industry.
Along with workshops on recycling and upcycling materials and the use of natural fibers, the festival showcased high quality, stylish and versatile clothes for every occasion, proving once and for all that eco fashion is not just for flower children and free spirits.
From Green Embassy's glamorous dresses to the outback wildflower jewelry of Curtin Springs' Amee Porter to the sporty and smart casual looks by Merino Country, eco-friendly fashion has something for everyone and is increasingly a part of the Australian style landscape.
Here are the top looks from Eco Fashion Week Australia.
Eco Fashion Week Australia's opening show was Green Embassy, a luxurious eco-friendly fashion brand by Australian designer and event founder, Zuhal Kuvan-Mills.
The collection shown at EFWA, entitled Empty Ocean Series, was inspired by the diversity of marine life and the changing textures of the ocean waters. Done up in natural silks colored with vegetable dyes, the fluid forms of Green Embassy's designs represent the pinnacle of green fashion and prove that glamour can be good for our planet.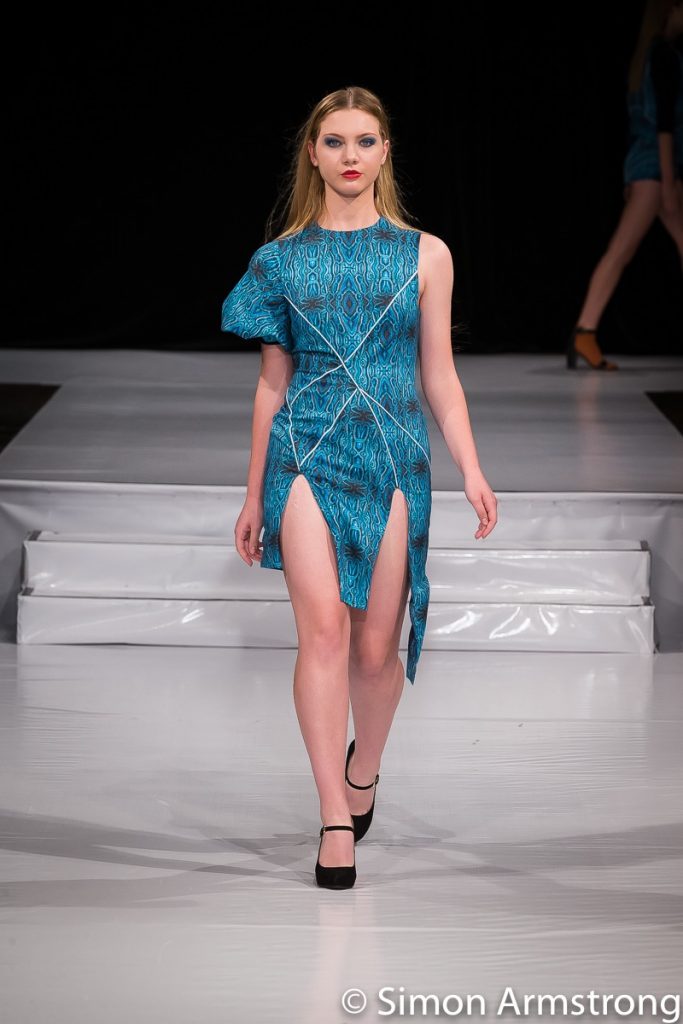 Sisters Selda and Yeshim Ismail make up the design team behind Sista of Jac which presented a runway show full of colorful prints, bold colors and abstract lines inspired by architecture and science.
Based in Melbourne, they design their own fabrics which include organic cottons as well as rescued textiles such as wool and silk.
With a goal of sustainability and zero waste production, they offer high quality luxury garments for the discerning eco fashionista.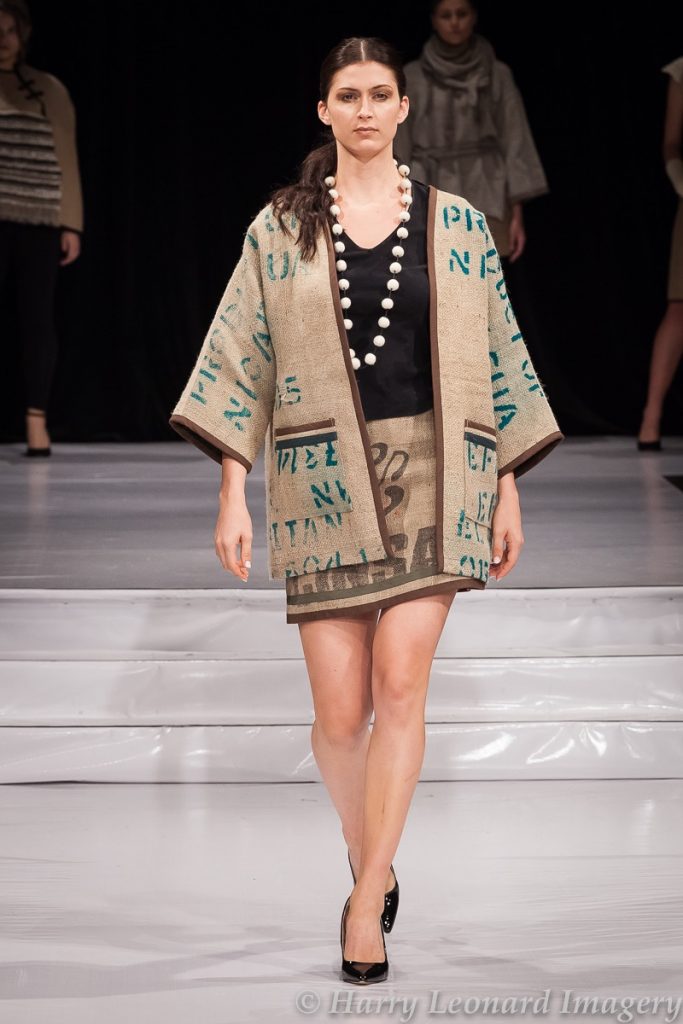 Scouring the waterfront docks of Barcelona, Sylvia Calvo collects and recycles coffee bags to create her eco-friendly collections.
She also collaborates with other artists to create hand-painted organic cottons and woven fabrics made from leftover textile scraps that combine art and couture.
Calvo believes that sustainable fashion goes in hand in hand with elegance, creativity and design and, with one of the most impressive collections on the runway at Eco Fashion Week Australia, her designs bear out her beliefs.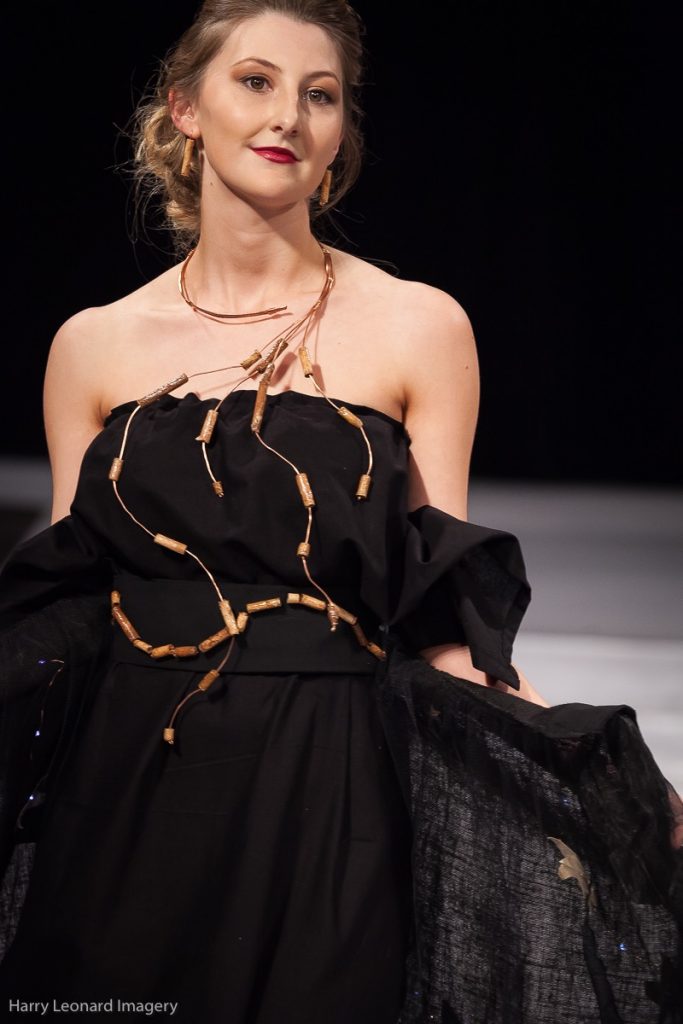 A self-taught jewelry designer, Amee Porter creates her collections from the natural grasses and plants of Curtin Springs, a Central Australian cattle station located 40 kilometers from Ayers Rock.
From the landscape of the Australian desert, native grasses are harvested, pulped and pressed into unique sheets of paper which are then formed into jewelry. Surrounded by a 360-degree horizon, Porter draws inspiration from the ever-changing vistas of the million acre cattle station which includes a workshop and gallery out of which she creates and displays her wearable art.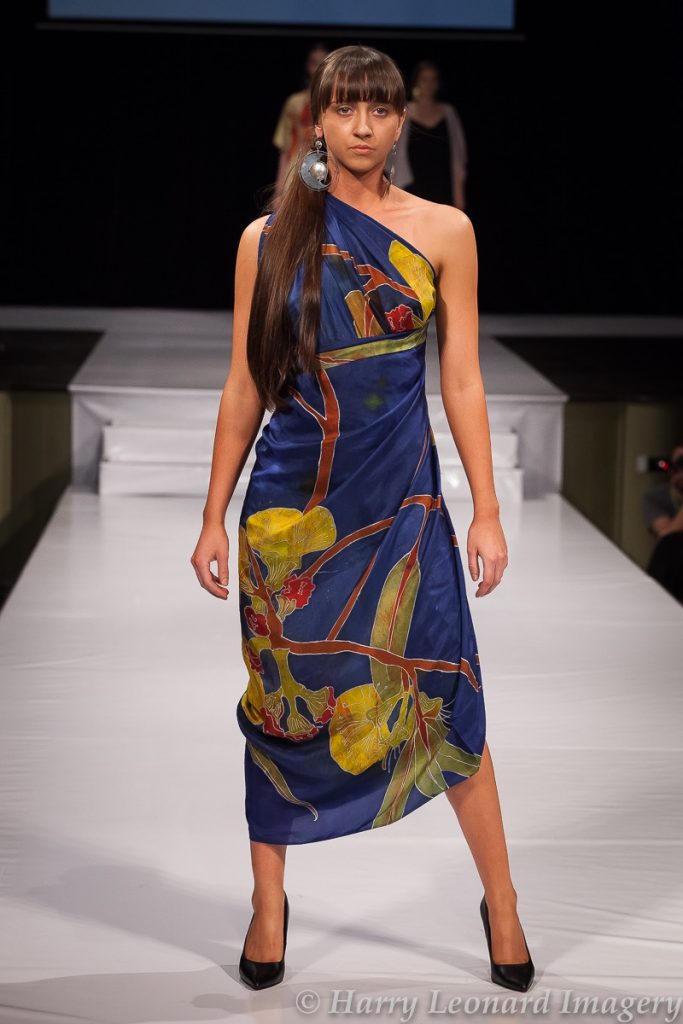 The love of wild colorful Australian flowers and the exceptional landscape they flourish in is what inspires Jude Taylor's fabric designs. Working with natural fibers such as linens, cottons and silks, she experiments with unbleached fabrics to create beautiful floral patterns.
Offering classic trans-seasonal styles that can be enjoyed for many years to come Taylor is one to watch for eco-conscious consumers.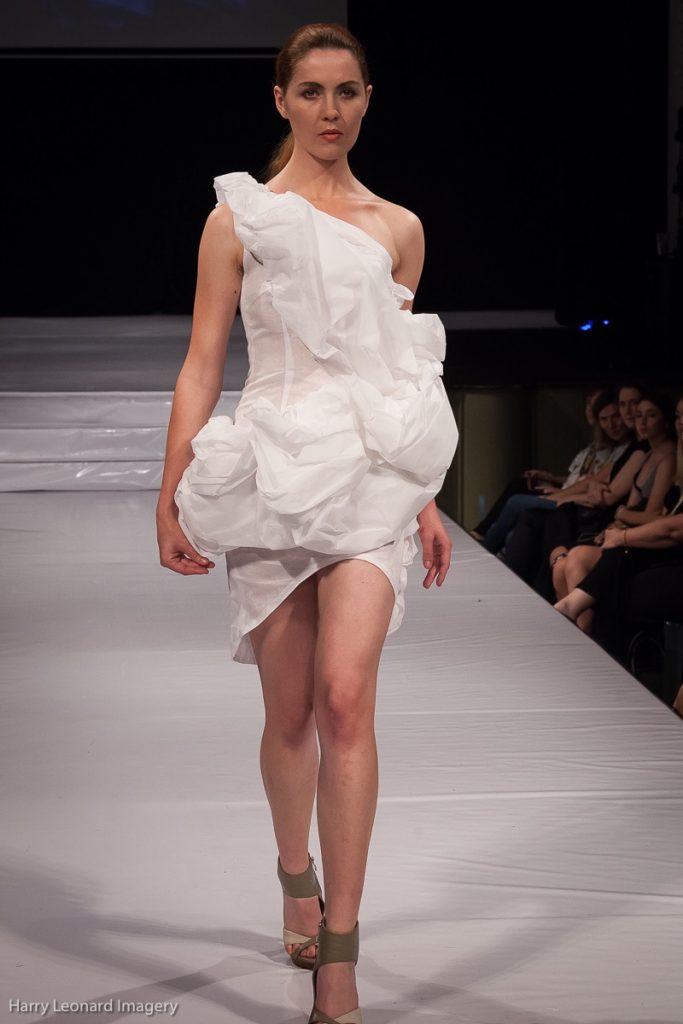 Kirsten Ley's inspiration for the collection she showed at Eco Fashion Week Australia was drawn from the concept of Snell's Law and the exploration of translucent light refraction.
Not only is Kirsten is a fashion designer, she is also an artist, a singer and a songwriter who wrote the music for her runway show at Eco Fashion Week Australia.
Using only natural materials, the multi-talented Ley empowers women with confident clothing that moves naturally with the female form.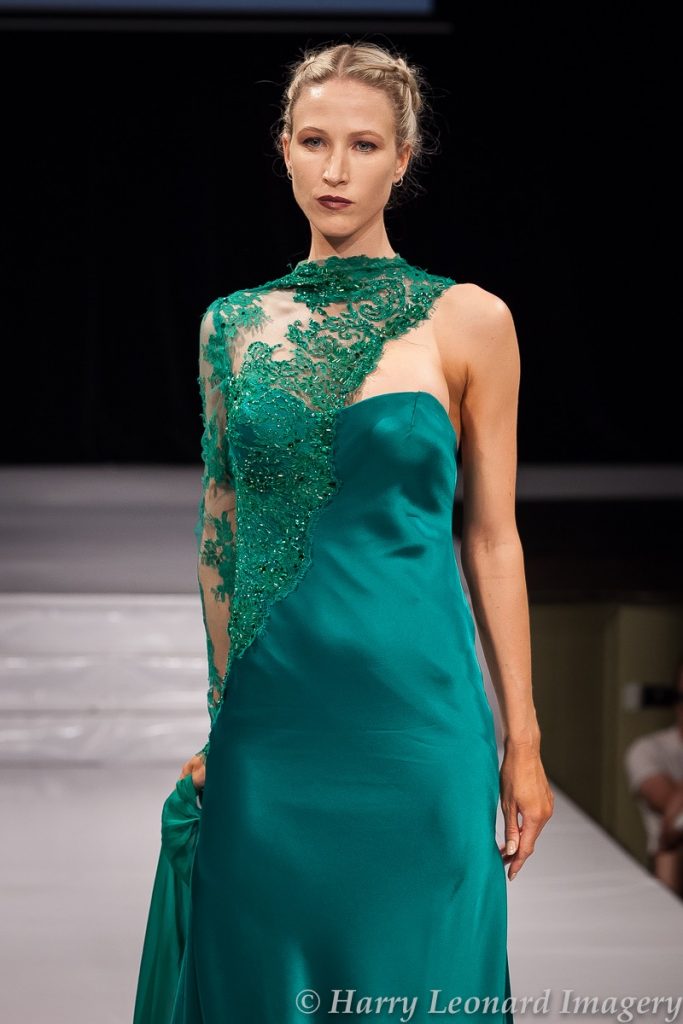 Angelia Arcaro started creating clothes when she was 11 years old and has a deep love of beauty and art. As each Arcaro Couture gown is unique and made from only the finest natural materials such as wool, cotton, linen and silk, her collection is an expression of individuality and quality.
Angelia Arcaro offers up true elegance with a Australian twist. Each Arcaro Couture gown is hand-crafted and embellished with antique jewelry, reworked lace, pearls, gemstones, beads, feathers and other ornaments discovered at local markets.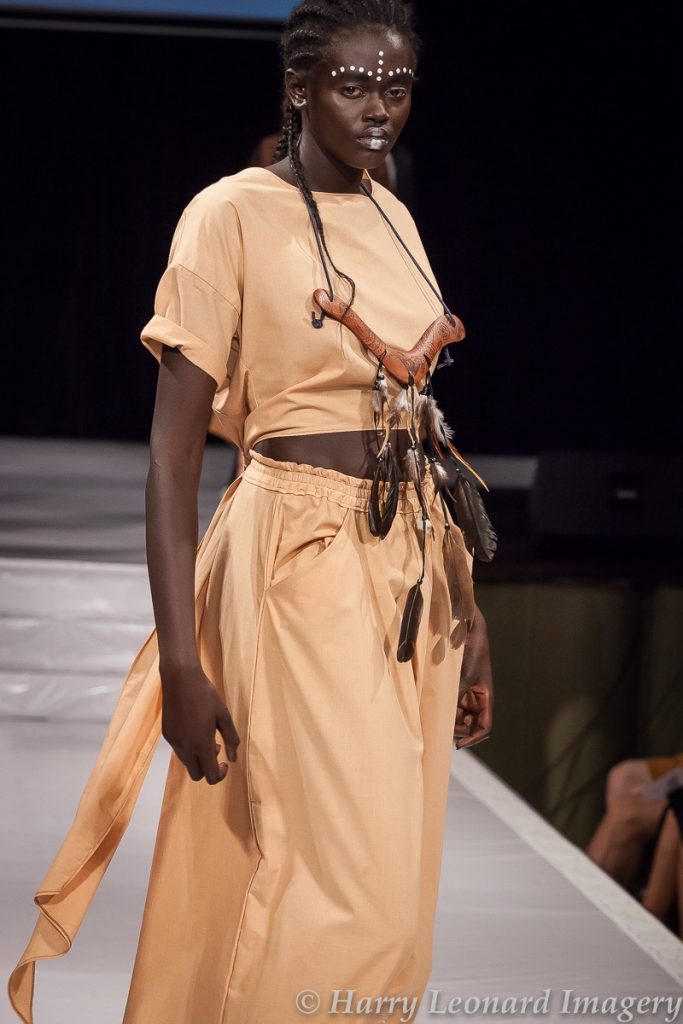 Using raw and recycled fabrics, Lima Jordon of Melbourne creates avant-garde fashion that is also simple and practical, exploring and reinterpreting the origins of clothing.
As a designer, Jordan chooses to go against fast fashion, fight for workers' rights and support the slow-fashion movement. Her current collection was inspired by nomadic/tribal lifestyles, traditional artisan fabrics and unknown cultures and effortlessly combines her sustainable values with innovative designs.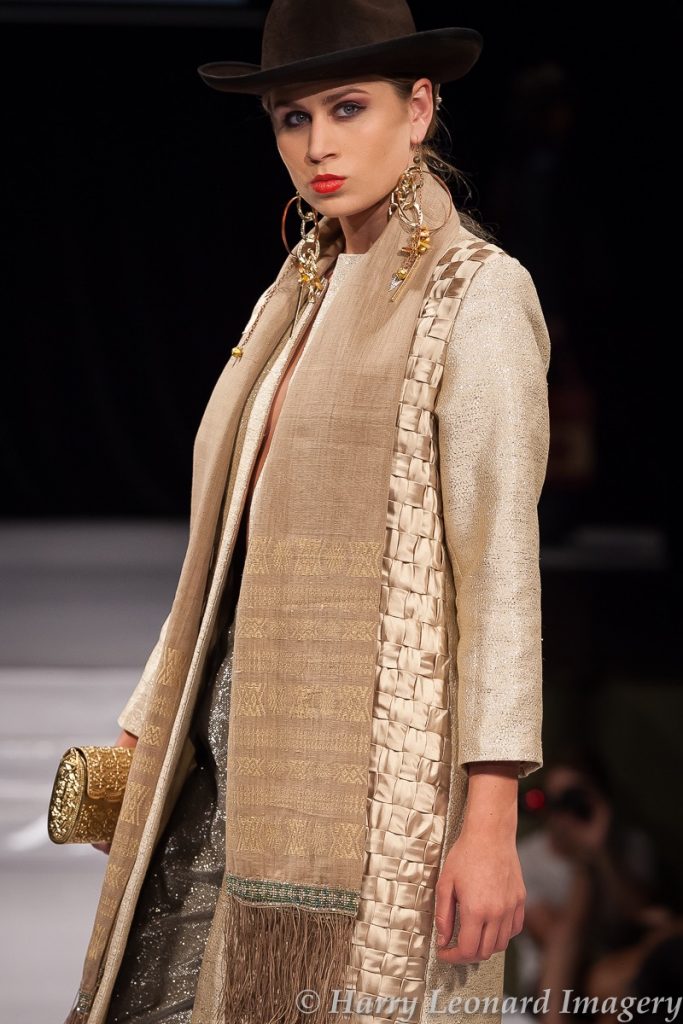 Since childhood, Merdi Sihombing has been enveloped by the arts in all its forms – singing, dancing, painting, poetry and more. He started designing clothing as a teenager and is inspired by the cultures of the diverse tribes of Indonesia.
One of the difficulties he faces as a designer is taking the rich culture and traditions of Indonesian fashion to global markets while still using sustainable fabrics and supporting ethical workplace practices. Given all he's achieved in the eco fashion world, he's sure to rise to the challenge.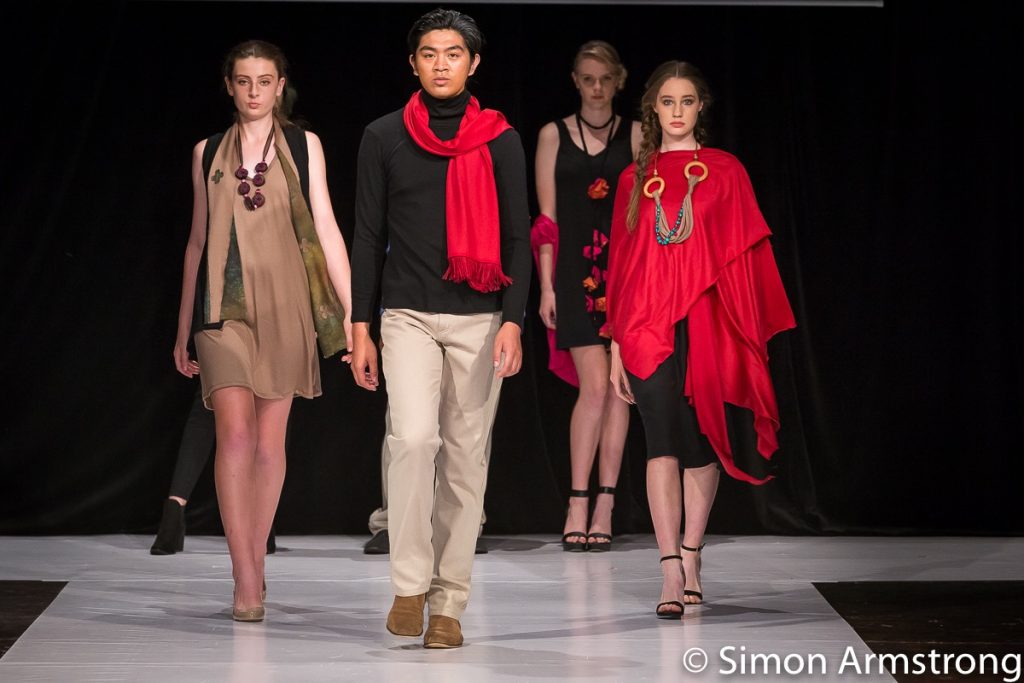 Merino Country's wool garments are all about comfort and performance for people with an active lifestyle. The intrinsic properties of the company's merino wool are that it is breathable, easy to care for, ideal for sensitive skin and renewable and biodegradable.
Fashion designer Kerrie Richards was raised on a sheep station in Western Queensland and has created a wide range of garments, including underwear, activewear and smart casual clothes such as polo shirts, dresses and shorts.
Polyester yoga pants are destroying our oceans by releasing small polyester beads during the wash cycle which are then consumed by fish and ultimately end up in our bodies. For all the eco-conscious yogis out there, Merino Country's wool yogawear is one solution the plastic that pollutes our oceans.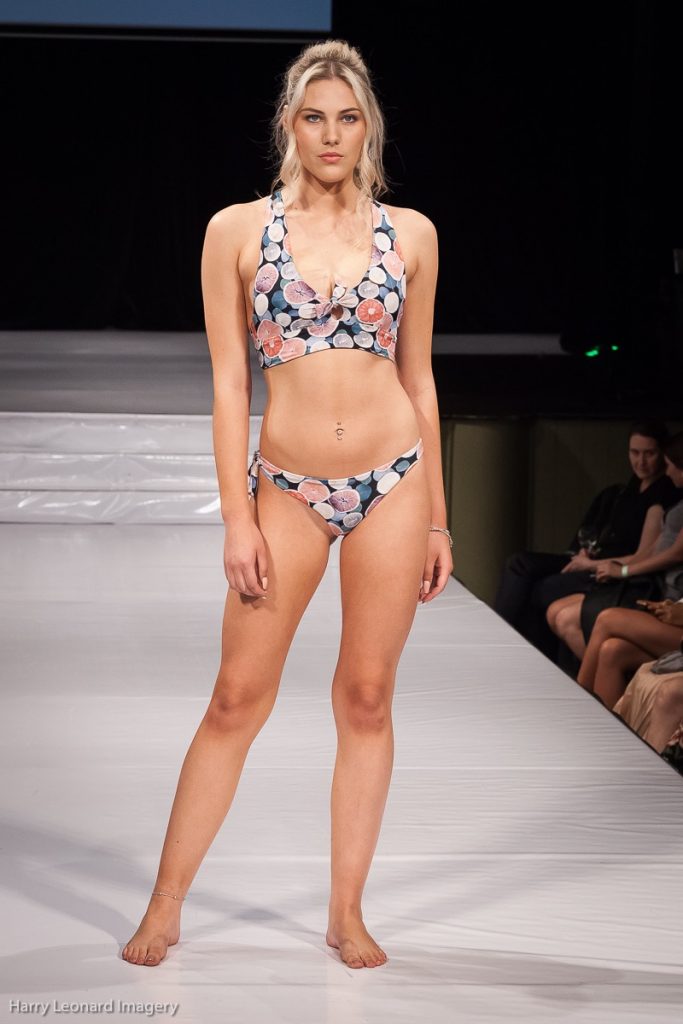 Originating in Melbourne, this youthful swimwear line created by Elle Evans, showed a series of of playful swimsuits inspired by the colour of a ruby red grapefruit at Eco Fashion Week Australia.
With a strong belief in doing business in an ethical and sustainable, Evans strives for the smallest footprint by using 100% recycled PET Nylon Lycra materials made from ghost nets and other plastics from the oceans. Fabrics made from recycled plastics or scrapped fabrics take up to 40% less energy to produce than virgin fabric and, as Evans' designs show, produce garments just as stylish as anything you'd find in a fast-fashion outlet.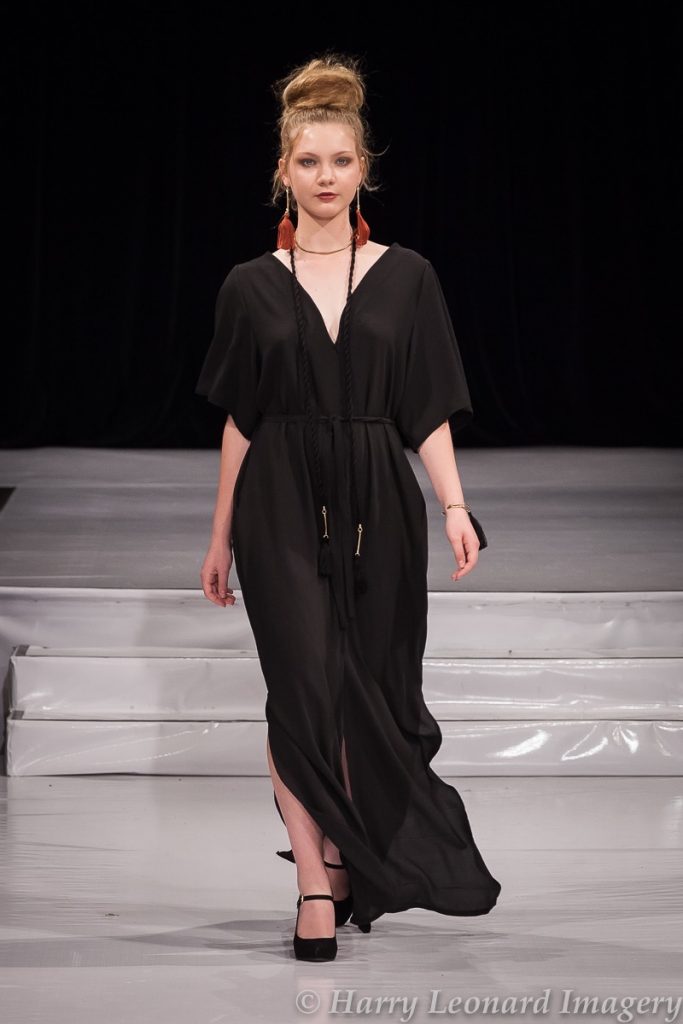 Since childhood, traditional clothing and textiles along with nature and architecture have fascinated Connally McDougall and influenced her aesthetic. Based in Vancouver, Canada, McDougall aspires to create chic fashion for women with materials that are both ecologically and ethically sustainable.
Her collection, including a line of handbags, is made in her own studio from organic cotton, wool, silk and faux leather.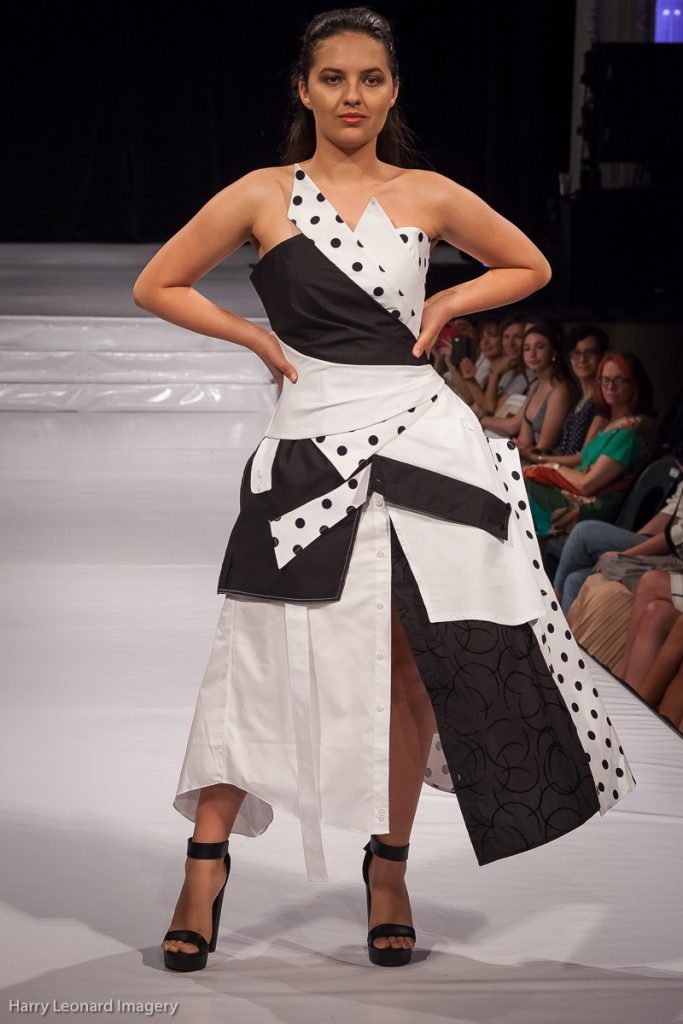 Eco Fashion Week Australia Upcycling Challenge by Marilyn R. Wilson featured the works of 21 designers from 12 countries. The challenge was to create one runway look from used men's dress shirts that showcased their design style and the designers did not disappoint.
The look above is by Jessie Liu of San Francisco, a master of creating flattering silhouettes in bold graphic prints that appear almost three-dimensional.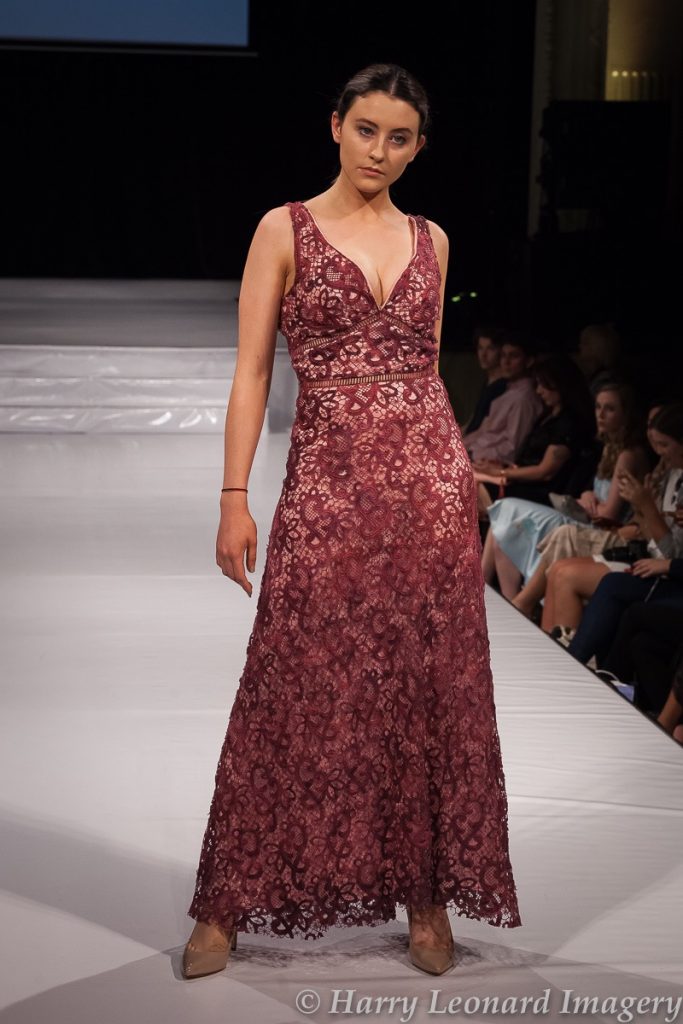 Designer Kyra Brown has always wanted her line of women's clothing, Verdant the Label, to represent the positive side of fashion. This meant spending months researching the fashion industry in order to ensure that, from farmer to consumer, from the treatment of garments workers to the use of natural materials, her clothes are as ethical and eco-friendly as possible.
Drawing her inspiration from social media and people watching as well as art, vintage style and the international fashion scene, Brown is fascinated by how light, color and texture play on the body and the imagination.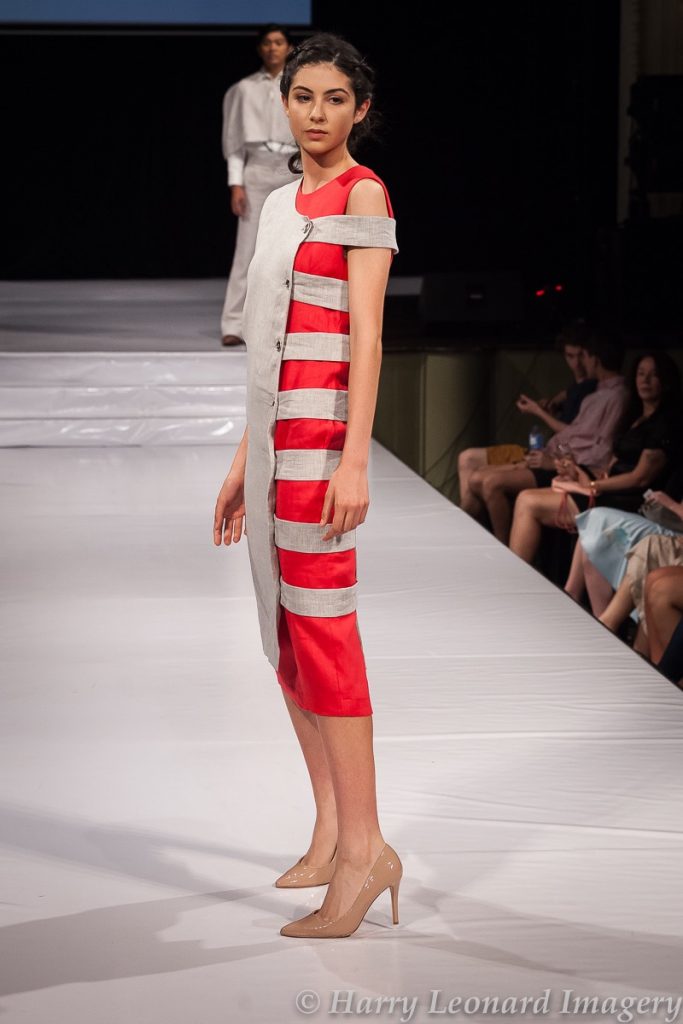 Chaynika Sethi of CVS Fashions
With a focus on structure, detailing and tailoring, Chaynika Sethi is all about power dressing. Designing collections for both men and women, she offers a unique perspective on corporate wear.
Sethi works with organic, unprocessed natural fabrics like linen, cotton, wool and silk as well as textiles derived from coffee beans to create fun and innovative styles that are sure to add confidence and attitude to any workplace wardrobe.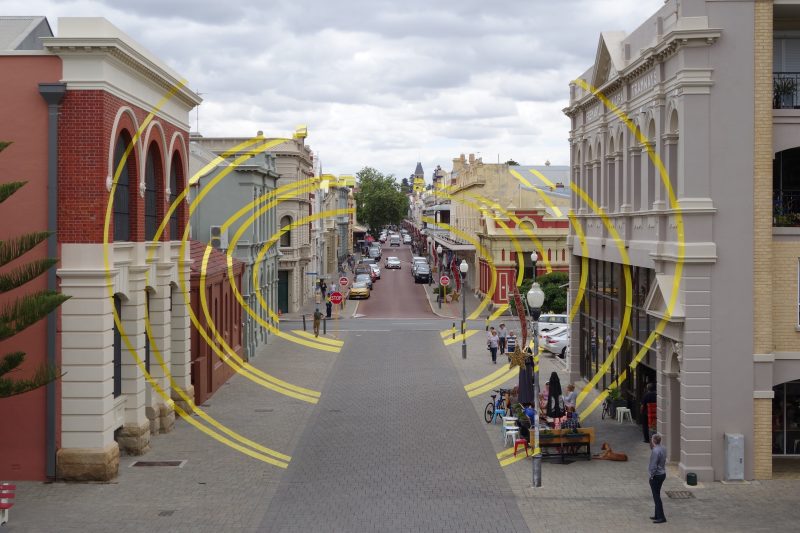 If you go:
Fremantle serves as the port for Perth, Western Australia's capital, and is located on the mouth of the Swan River which flows into the Indian Ocean. As a visitor, you will experience a seaside village filled with waterfront restaurants, museums and boutiques. The British convicts who built the foundations of the city first landed in the early 1800's and several of the original Victorian buildings still stand today, providing some historic charm to go with Fremantle's relaxed, small town feel.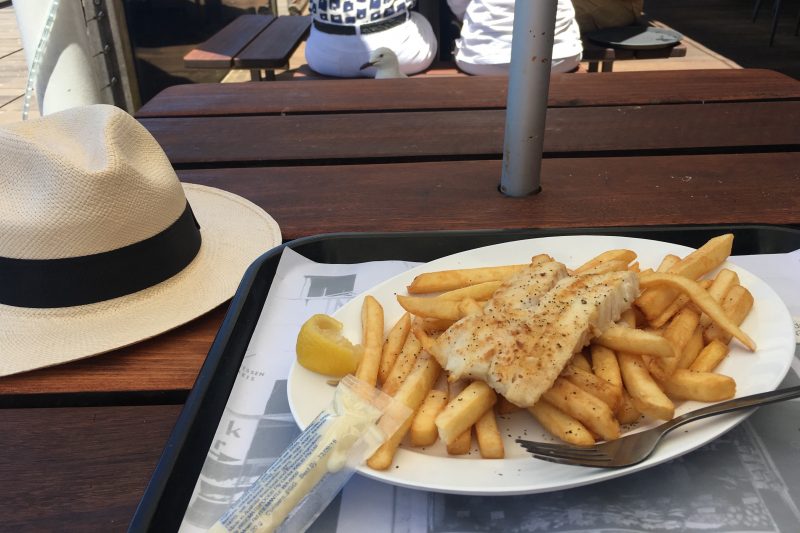 Savour:
With the convicts came the archetypal British fish and chips and Fremantle's waterfront district is filled with pubs and restaurants that offer this traditional fare. The local favorite is Kailis which combines casual dining with quality food from the classic fish and chips meal to full entrees of bbq fish, octopus, scallops, oysters and more. There is ample seating inside or on the dock but watch out for the hungry seagulls.
Just next door to Kailis' is Bathers Beach House which offers diners views of cruise ships departing eastward into the Indian Ocean. Menu offerings range from seafood platters to beef burgers to mahogany creek chicken breast salad, all highly recommended.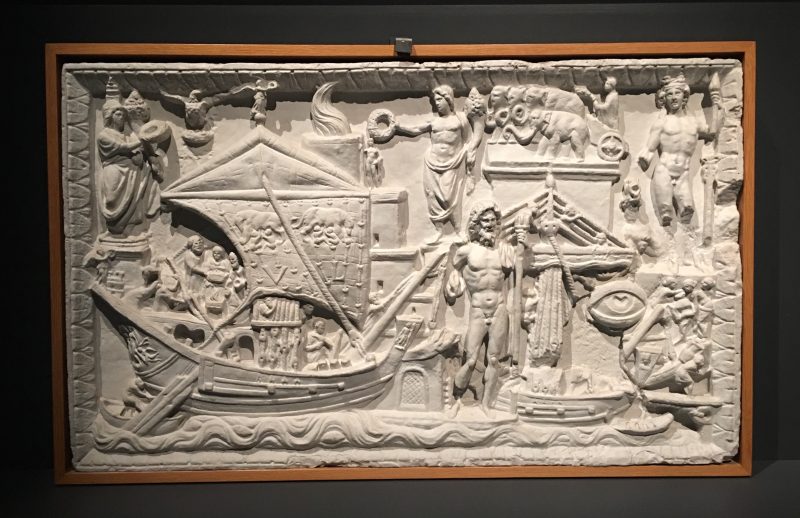 Sights:
The seafaring history of Fremantle is on display at the Western Australian Maritime Museum located right on the waterfront. The current exhibition, Escape from Pompeii: The Untold Roman Rescue, is a must see. In 79 AD Mount Vesuvius erupted, burying the city of Pompeii under huge clouds of volcanic ash and debris. The exhibition tells story of the Roman Navy's attempts to evacuate people and the importance of controlling the Mediterranean to their empire. On view are artifacts such as personal objects and the remains of those who died in one of history's most famous disasters. This exhibition runs until February 4, 2018.
Shopping:
For those who wish to take home a memory of Fremantle, Glen Cowan's Studio at the Roundhouse located at the foot of High St. Cowan offers a wide range of colour prints and images on jewelry. Cowan is an underwater photographer who has captured the beauty of marine life in the region and his pictures make ideal keepsakes to remember your visit to Fremantle.