Celebrating Best Emerging Australian Eco-Fashion Designers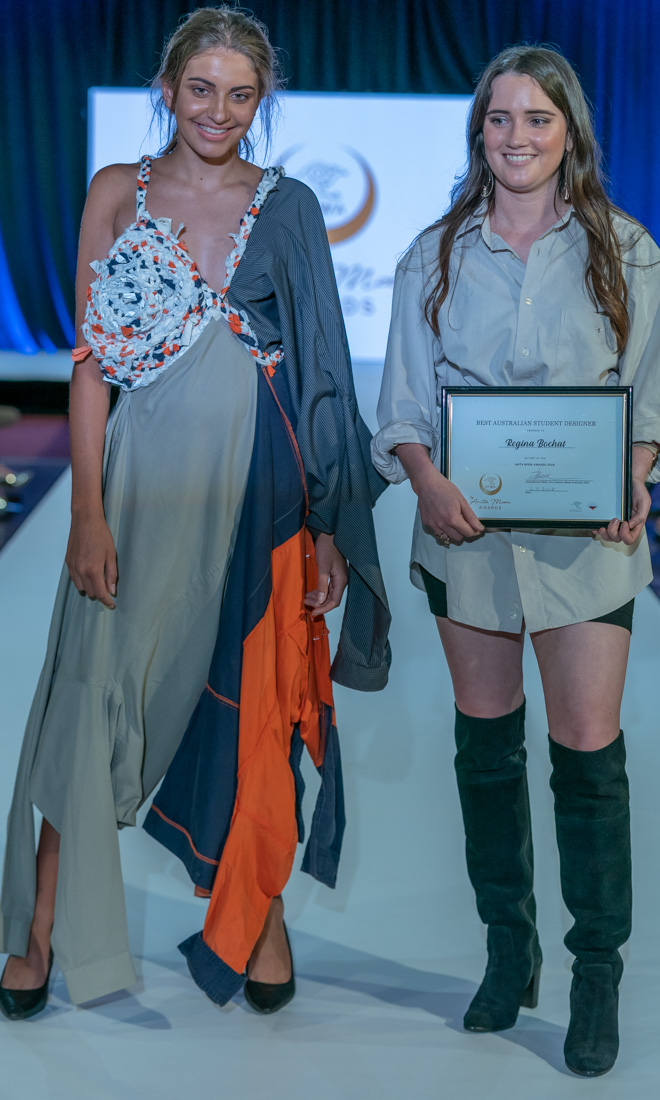 Best emerging Australian eco-fashion designers were honoured last evening at Eco Fashion Week Australia Opening Gala held at the Fremantle Community Bank Oval.
With several hundred spectators in attendance resulting in standing room only, the Anita Moon Awards of Excellence were presented to four local grown Australian talent – student and emerging designers with an aspiration to create their own sustainable clothing line.
Above: Regina Bochat accepts the Best Australian Student Designer Award at Eco Fashion Week Australia, her fashion design submission is made from up-cycle men's shirts. The award includes a two-week Designer in Residence at Curtin Springs Paper to learn about natural paper making from native grasses. Photo: Style Drama Simon Lau
The Anita Moon Awards of Excellence is in honour of EFWA founder Dr. Zuhal Kuvan-Mills close colleague, artist, wildlife and environmental protector Anita Moon, who was a strong supporter of sustainability with fashion and the environment.
The Australian eco-fashion designer award categories presented were Best Australian Student Design Award, Best Australian Emerging Designer Award, Best Australian Home-Made Sustainable Garments and Australian Made Designer Award.
Presenting the best emerging Australian Eco-fashion designers during EFWA Gala guarantees a spectacular week of runway fashion shows to come.