Banff, a small recreational town full of friendly Albertans, offers one of the greatest Canadian outdoor adventure vacations. Surrounded by awe-inspiring mountain ranges, it offers family activities along with dining options and accommodations for any budget.
To promote social-distancing, 100 and 200 blocks of Banff Avenue and Caribou Street are now closed to vehicle traffic creating a large pedestrian zone this summer. With the absence of international visitors and much smaller crowds, we felt very safe during our visit to Banff this summer.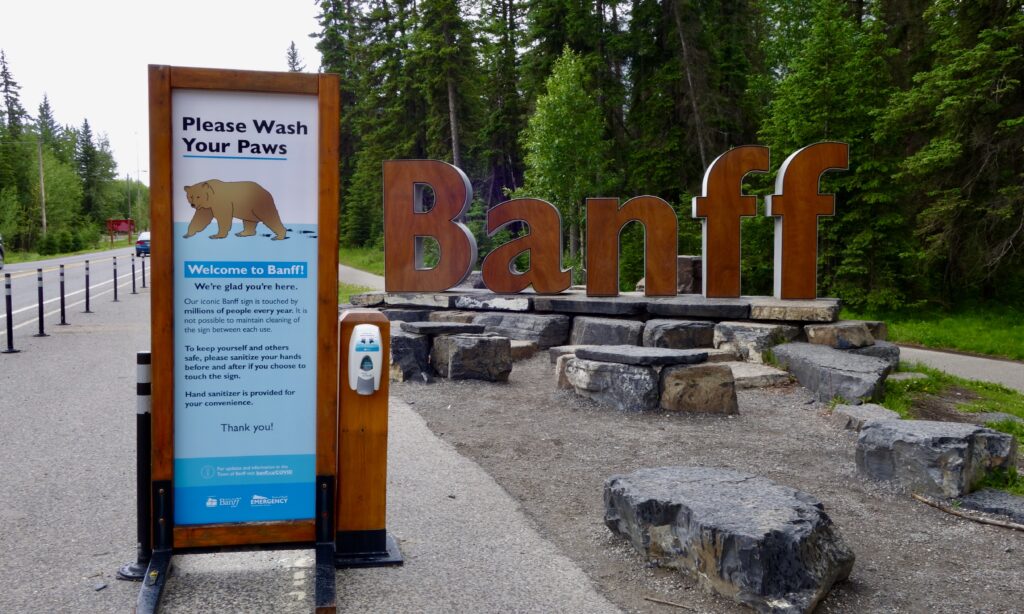 Banff History
The majority of western Canadian towns were built on mining or natural resources but Banff is unique as it was built as a tourist destination in the late 1880's around the natural hot springs discovered on Sulphur Mountain.
To protect the Cave and Basin hot springs, as they came to be named, from uncontrolled development, the Canadian government created a reserve around the mountain. The Rocky Mountains Park of Canada, later renamed Banff National Park, was Canada's first national park.
High in the mountains is the Banff Springs Hotel, a testament to the former might of the Canadian Pacific Railway which was essential to Banff's development. The CPR brought tourists from across Canada on its railways and made Banff a world-class destination.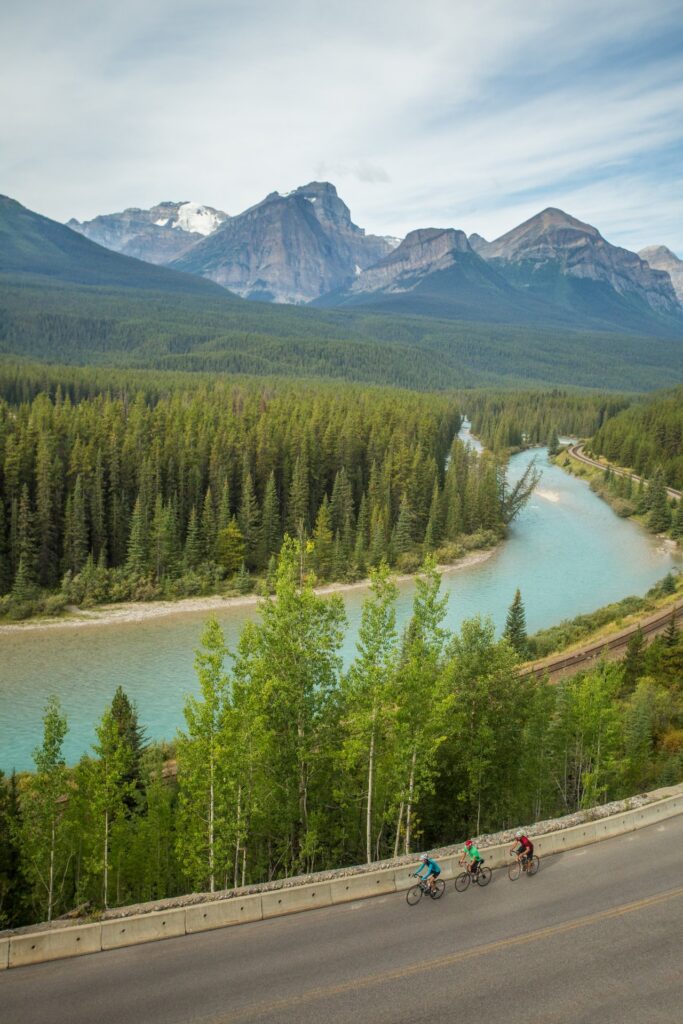 Bow Valley Parkway
New this summer is the closure of vehicle traffic along the Bow Valley Parkway, a narrow two-lane road north of Banff that runs parallel to Highway 1 and offers a walking and biking route that gets you up close to mother nature.
Rent a bike in Banff and make a day of viewing the alpine meadows and plentiful wildlife. Explore Johnston Canyon, filled with trails and bridges that take you to waterfalls, spring pools, and jagged rock walls. Dramatic natural beauty to say the very least.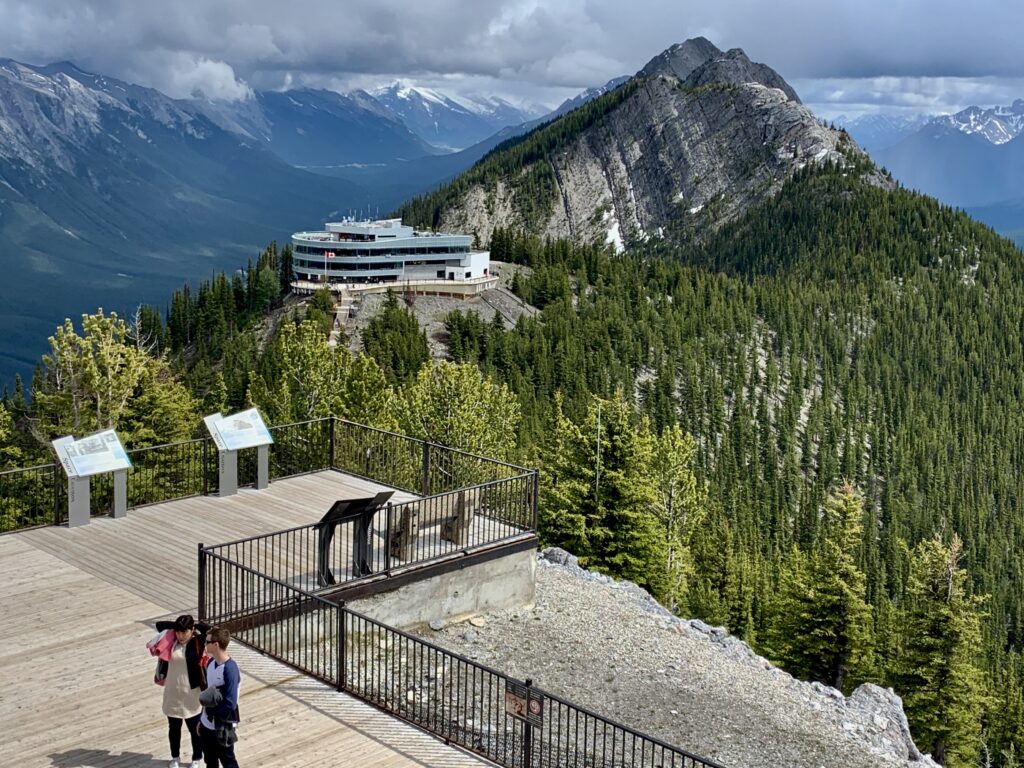 Banff Gondola
One of the top attractions in this tourist hotspot is the Banff Gondola which takes visitors to the top of Sulphur Mountain for majestic views of several mountain ranges. The gondola takes about 8 minutes and places you at 7,486 feet above sea level.
At the top, a boardwalk takes you to the Cosmic Ray Station, a national historical site and Sky Bistro, the tallest restaurant in Canada. Enjoy the views as well as the interpretive centre, dining options, and hiking trails. Plan to spend a minimum of three hours on the mountain.
The current Banff Gondola protocol includes a thorough cleaning of each gondola after each use and the use of only every other gondola to ensure guests are able to maintain a safe social distance.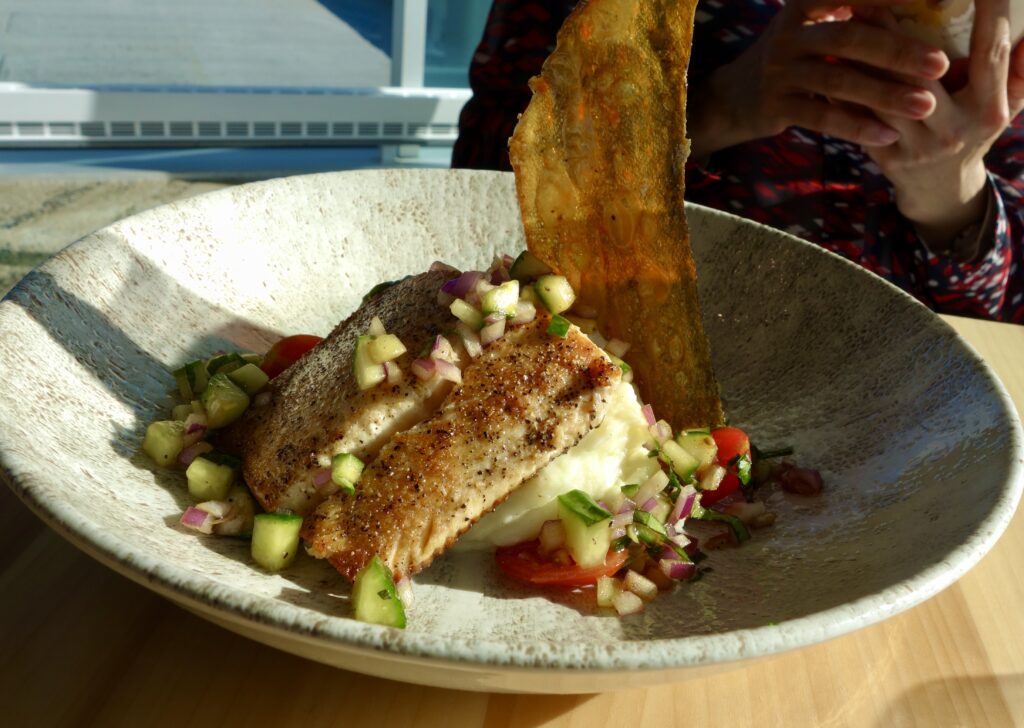 Sky Bistro
Known as the tallest restaurant in Canada, with views of the great Rockies Mountain ranges, the Sky Bistro is a dining experience that must be included during your visit.
With an open dining room concept, the restaurant's floor to ceiling windows offered us stunning panoramic mountain views on one side of our table for two, making our mountain top meal an unforgettable experience.
To start, I recommend the Chowder full of PEI mussels, pacific salmon, BC prawns and clams, tobiko and bacon. For your entrée, try the Arctic Char which was flavourful yet delicate and came with a large portion of delectable truffle mash.
After exploring the top of Sulfur mountain, a quality dining experience makes for the perfect end to a day in Banff. Sky Bistro's wine list covers a good selection of whites, reds and sparkling wines, making it a perfect spot for any celebration.
There is a gondola dining package that includes your choice of appetizer and entree and includes gratuities. Making your gondola and dining reservation online in advance, allows you to avoid the line ups.
Despite the slow summer for tourism and travel, Albertans welcome British Columbians to experience Banff, one of Canada's great national treasures. With smaller crowds and awesome outdoor adventures, it's the perfect vacation destination this year.