The Oregon Coast makes for one of the most picturesque road trips in America and what better way to traverse Oregon's stretch of Highway 101 than in my Porsche. The highway and the car, both beautiful, were made for each other. As with all my Porsche adventures, I wanted to feast like a local, which inspired me to discover Oregon Coast's best clam chowder. 
New England style clam chowder is classic comfort food among Oregonians. It's white and creamy, due to milk or cream, thick, and made with clams, potatoes, onions, and sometimes bacon. It's served often with oyster crackers, topped with bay shrimp, or San Francisco style in a large sourdough bread bowl. With the coming of fall, I couldn't imagine a more soothing meal.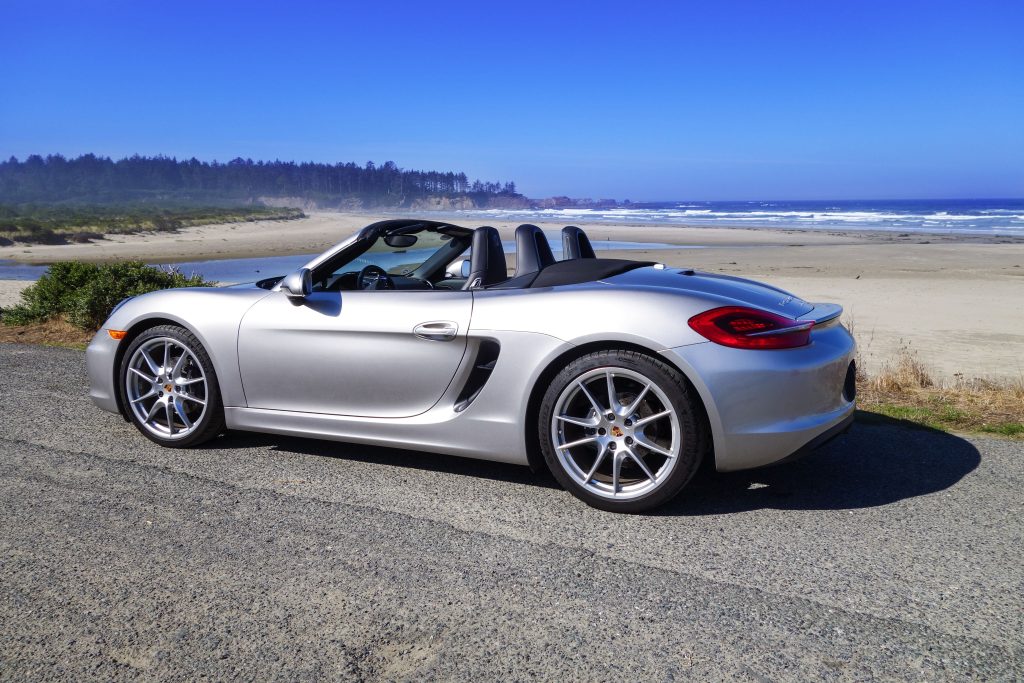 It was a cool early October morning and, bundled in my wool scarf and leather jacket with my Porsche's top down, I looked forward to driving a perfect line as I entered the twisty curves along Oregon's rugged coastline.
I could smell the waft of salt from the wild Pacific Ocean waves crashing against the many desolate sandy beaches as I waited for the moody fog to burn off. With the sound of my Porsche's flat six engine purring in my ears, I traveled for five days, north and south, exploring several of Oregon's coastal towns and historic lighthouses and, of course, sampling chowder at every opportunity.
My 500-kilometer journey took me from Astoria at the entrance of the mighty Columbia River to Charleston, a small town in Oregon's Bay Area. I travelled far and feasted well and here are my discoveries in search of Oregon Coast's best clam chowder.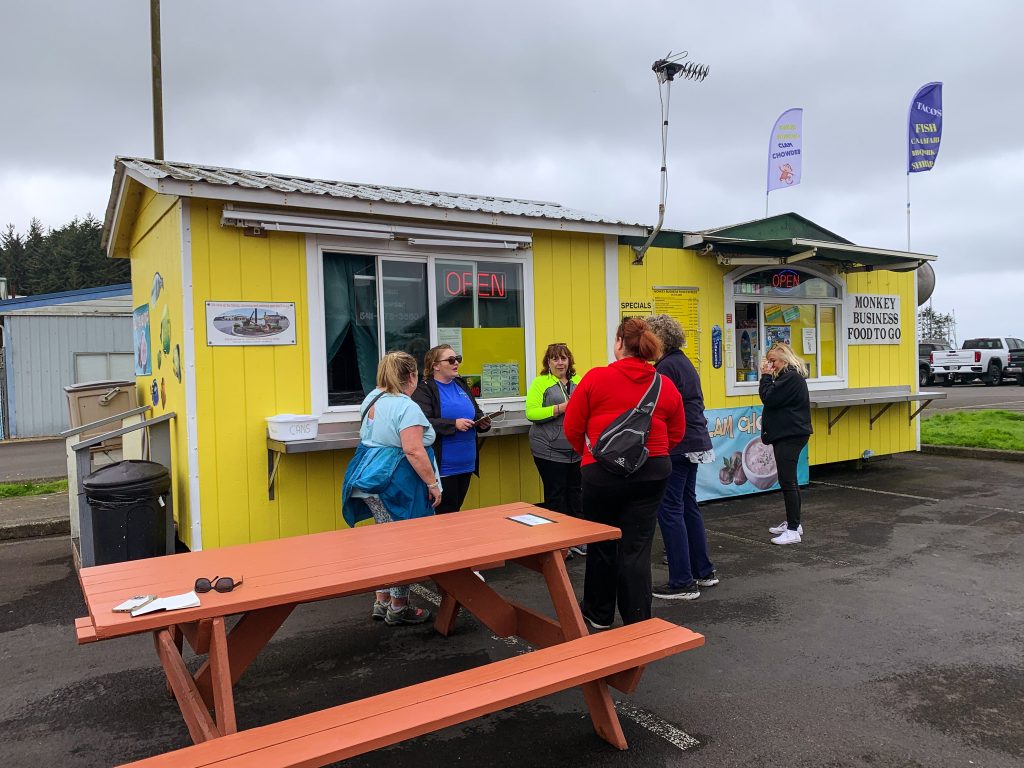 Monkey Business Food Express to Go, Charleston 
Monkey Business, a bright banana-yellow stand with adjacent picnic tables situated in the corner of Charleston Marina parking lot, won my choice for Oregon Coast's Best Clam Chowder.
While the business name is bewildering, it stems from good intentions. The owner told me she purchased the business recently from the original owner and decided to keep the Monkey Business name for continuity.
Her house-made clam chowder was delicious and delicate, with a rich clam flavour, a light creamy broth, potatoes diced in small squares, and plenty of baby clams. The soup was garnished with a touch of burnt orange Cajun powder and served with oyster crackers – the perfect finishing touches.
Charleston is a community of less than 1000 residents, and they are very lucky to have Monkey Business serving up Oregon Coast's best clam chowder. Open daily from 11am – 4pm, except on Wednesdays when it's closed, make sure to check this food truck's Facebook page for current hours before visiting.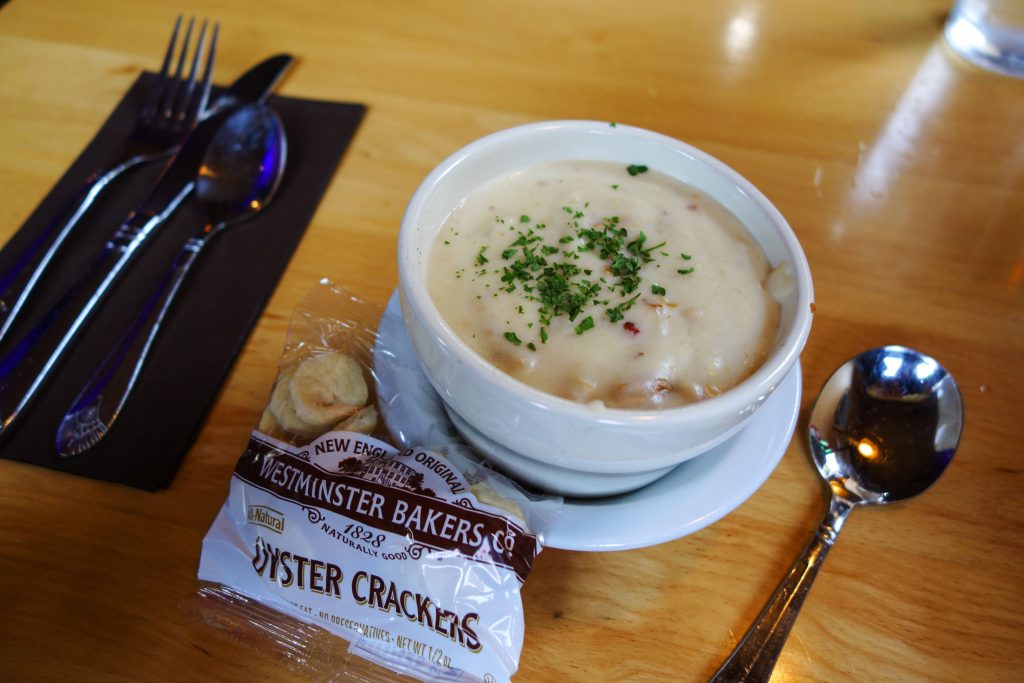 Dory Cove, Lincoln City 
While I may have crowned Monkey Business' clam chowder the best on the Oregon Coast, there are some who would disagree with me, and they might direct you to Dory Cove in Lincoln City.
During my evening visit, the restaurant was packed, and their clam chowder did not disappoint. It was neither too thick, nor too thin. It was very flavoursome with loads of potatoes, large clams, bacon, and a sprinkle of parsley on top. I followed it with beer battered fish tacos with a side of roasted red potatoes and onions – a very rewarding dinner after a day exploring Oregon's lighthouses.
A family style restaurant, Dory Cove offers good service with an extensive menu, including seafood, pasta, and prime rib. Even if this wasn't my pick for best clam chowder, you will not be disappointed by a visit to this coastal gem.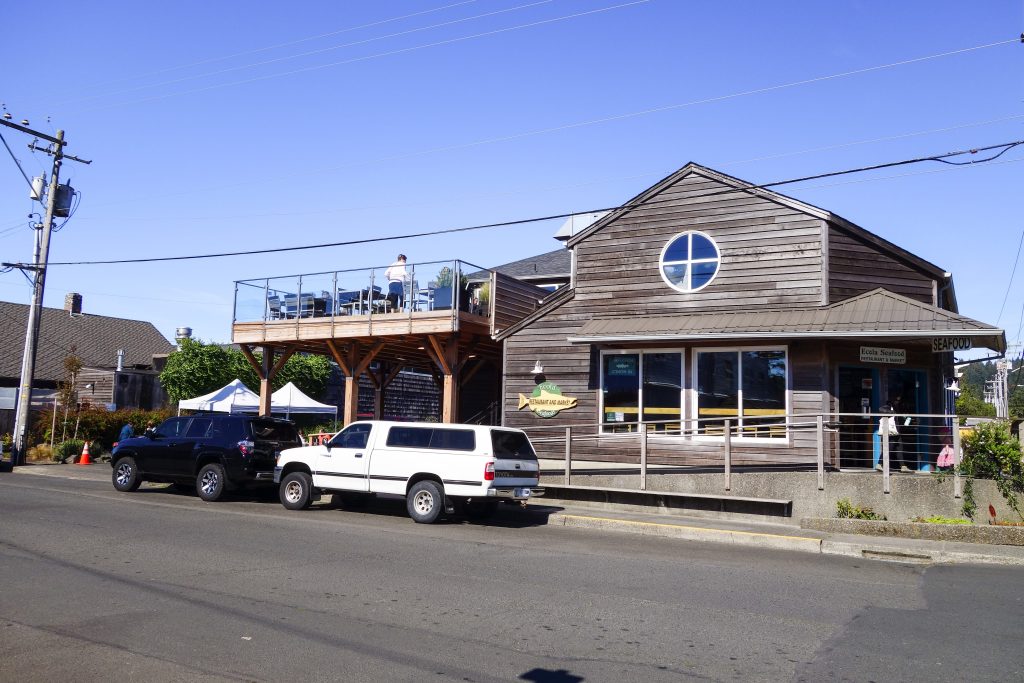 Ecola Seafood Restaurant and Marketplace, Cannon Beach
Cannon Beach is home to Haystack Rock, an Oregon icon of the stunning Oregon coastline. A small seaside village with outstanding resorts and well-known as a luxury travel destination for romantic getaways, Cannon Beach is a great place to visit for any traveller.
My lunch choice was Ecola Seafood Restaurant and Market, located one block east of North Hemlock St. in the downtown district. What is unique about this eatery is that the owners catch their fish on their own fishing boats along the Oregon and Washington coasts, bringing the freshest seafood to their customers.
Their homemade clam chowder was very good and had a smooth, balanced taste with the potatoes and the clams equally represented. Here, the chef prepares the chowder with no bacon and no flour, so the dish is pescatarian and gluten free. There is plenty of outdoor seating plus a rooftop deck which I enjoyed on my sunny afternoon visit.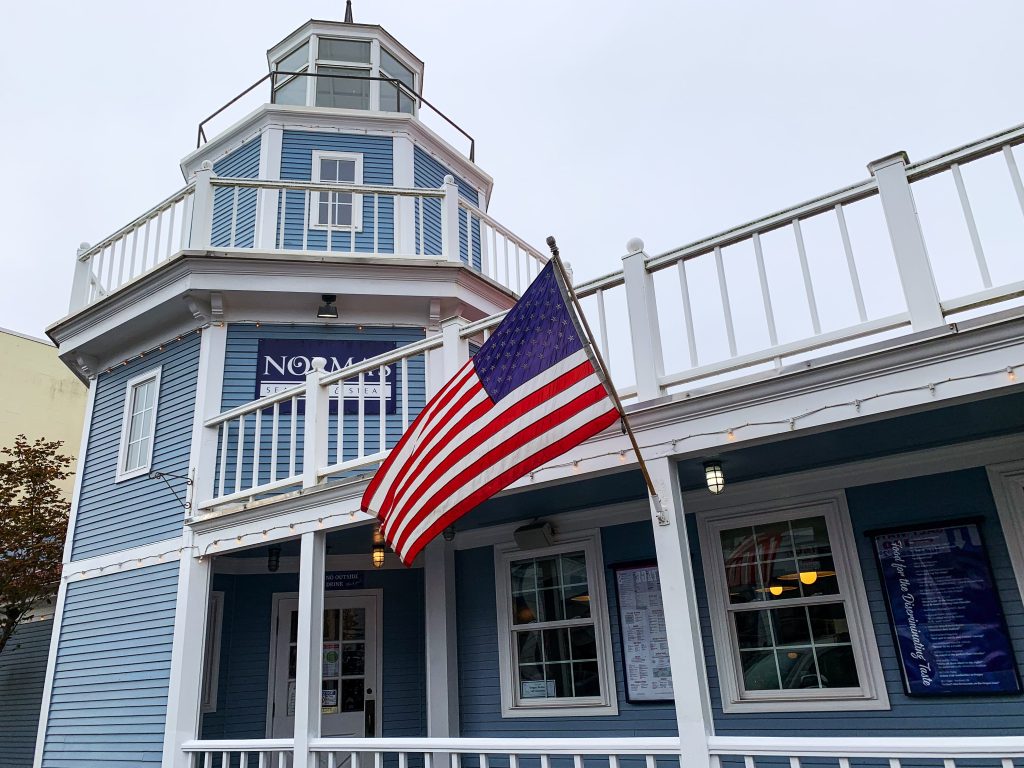 Norma's Seafood and Steak, Seaside
Seaside is home to Norma's Seafood and Steak which claims the title of the World's Best Clam Chowder. This 45-year-old establishment is in a light blue lighthouse-shaped building with white trim, just off-Broadway Street in the main shopping area.
Here you will find clam chowder that is thick and tasty, made from scratch with an abundance of clams and potatoes but no pork. It is served with warm, freshly baked bread and a pat of butter or with garlic toast. Epicurious named this little restaurant's clam chowder one of the ten best soups in the USA and, with an extensive fresh seafood menu from crab cakes to king crab legs, there are plenty of dishes to make a visit worth it.
Seaside is a very popular destination as it has several hotels offering a variety of accommodations and activities for the whole family. You can explore sandy beaches, ride the wild surf, bike the promenade, or ride the carousel.
My fall journey along the Oregon coastline was another awesome Porsche Road trip. Navigating along winding cliffside roads, exploring the endless sandy beaches and picturesque lighthouses and, of course, searching for the Oregon Coast's best clam chowder made each day a scrumptious Porsche adventure.
This story was published in the Porsche Club of America – Canada West Region Timberline magazine, Winter 2022.