Shopping in Downtown Vancouver's luxury corner just got a lot more chic with opening of the first ever Saint Laurent Paris boutique in Canada.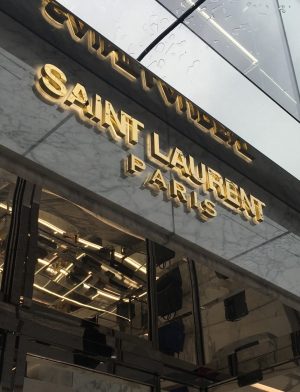 Located on Thurlow, the legendary French house has now opened its doors, joining Prada, Moncler, Brunello Cucinelli and Versace in making Vancouver a hotspot the luxury set. This Saint Laurent Paris location will offer both menswear and womenswear, including accessories such as bags and shoes.
Yves Saint Laurent, as Saint Laurent Paris was formerly known, was the first couture house to introduce a prét–à-porter – ready to wear – line which revolutionized luxury fashion. Founded in 1961, YSL was strictly a couture house for the privileged few. However, in 1966 they began offering designer fashions for the mass market, ushering in the era of the luxury designer logo and providing opportunities for every woman to wear Parisian designer clothing.
With the addition of Saint Laurent Paris to the local retail scene, those wanting the latest fashions will find that Vancouver has become the place to shop for European style."